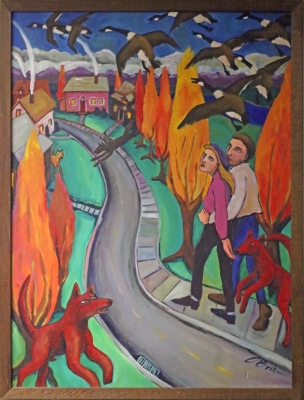 Artwork copyright Cheri O'Brien. Photo courtesy of Washington State Arts Commission.
Honkers Over Lowell,
1989
Location:
Discovery Lab School, Yakima
ABOUT THE ARTWORK
In Honkers Over Lowell , Artist Cheri O'Brien captures a whimsical autumn scene from her neighborhood in Everett, Washington. The artist used vivid colors and stylized forms to depict a family enjoying the southern migration of a flock of Canada Geese.
This artwork was acquired for the State Art Collection in partnership with Yakima School District.
ABOUT THE ARTIST
Northwest artist Cheri O'Brien creates quirky and humorous narrative folk-compositions. She uses many different materials, including oil painting, papier mâché sculpture, and painted glass.
ARTWORK DETAILS
| | |
| --- | --- |
| Material Category | Painting - paint on fabric |
| Medium | Acrylic on canvas |
| Dimensions | 4 ft x 3 ft |
| ID Number | WSAC1992.089.000 |
| Acquisition Method | Direct purchase |
| Artist Location | Washington, United States |
Location Information
Agency
Yakima School District
Artwork Location
Discovery Lab School
Room 7
WA County
Yakima
Placement
Interior
Site Type
Public School
Address
2810 Castlevale
Yakima, WA 98902
Geo. Coordinates
46.611458 | -120.547393
Before Visiting
Some artworks may be located in areas not accessible to the general public (especially in K-12 public schools). Consider contacting the site prior to a visit to ensure access.
Map








Menu