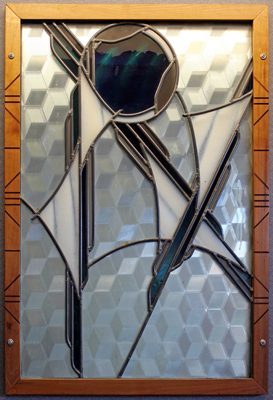 Artwork copyright Jack Archibald. Photo courtesy of Washington State Arts Commission.
Kites,
1991
ABOUT THE ARTWORK
Artist Jack Archibald created the stained-glass window Kites by arranging glass shards into an abstracted composition. It is part of a body of work that combines geometric and organic shapes to explore symbols. When viewing this piece, Archibald asks you to "think of the universe as if viewed through a microscope." He notes, "just as light metamorphoses through the day, the windows too have a kinetic energy"
This artwork was acquired for the State Art Collection in partnership with Wenatchee School District.
ABOUT THE ARTIST
Glass artist Jack Archibald uses light to animate the colors and abstract shapes in his stained glass artworks. In his own words, "As a stained glass artist, I work with light. Glass is uniquely interactive with light, its transitions, its intensities, its colors. Throughout the day, a window constantly undergoes transformation. The changing light animates the glass."
Archibald earned a Bachelor of Arts degree (1972) from the University of Wisconsin. In 1981, he established the private studio called "Revisionary Glassworks" on Camano Island, on North Puget Sound, Western Washington.
ARTWORK DETAILS
| | |
| --- | --- |
| Medium | Glass |
| Dimensions | 33 in x 22 in |
| ID Number | WSAC1996.165.000 |
| Acquisition Method | Direct purchase |
| Artist Location | Washington, United States |
Location Information
Agency
Wenatchee School District
Artwork Location
Wenatchee High School
Outside of Athletic Office on wall
WA County
Chelan
Placement
Interior
Site Type
Public School
Address
1101 Millerdale Ave.
Wenatchee, WA 98801
Geo. Coordinates
47.410590, -120.326654
Before Visiting
Some artworks may be located in areas not accessible to the general public (especially in K-12 public schools). Consider contacting the site prior to a visit to ensure access.
Map