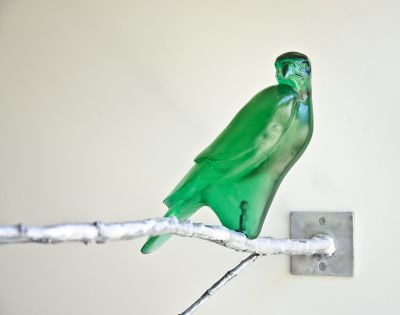 Artwork copyright SuttonBeresCuller. Photo courtesy of the artist.
Perch,
2015
SuttonBeresCuller

Zac Culler (American, born 1977); John Sutton (American, born 1975); Ben Beres (American, born 1976)
ABOUT THE ARTWORK
Perch is a series of eight translucent resin falcons, six of which are placed on cast aluminum branches. The artists John Sutton, Ben Beres and Zac Culler, known collectively as SuttonBeresCuller, created these sculptures to forge a link between the interior and exterior while celebrating the merging of art and the environment. Installed at multiple locations within Woodinville High School, northeast of Seattle, Perch creates "a monument to the surrounding areas, to nature and to our region."
This artwork was acquired for the State Art Collection in partnership with Northshore School District.
ABOUT THE ARTIST
SuttonBeresCuller is a Seattle-based artist team made up of artists John Sutton, Ben Beres, and Zac Culler. They have worked collaboratively since 2000. They create performance-based artworks, sculptures, installations, and public artworks. Their work plays with themes of identity, perception, and instinct.
Sutton, Beres, and Culler all received Bachelors of Fine Arts degrees from Cornish College of the Arts in Seattle.
ARTWORK DETAILS
| | |
| --- | --- |
| Material Category | Sculpture - other metals |
| Medium | Aluminum and polyurethane |
| Dimensions | 13 in x 6 in x 6 ft |
| ID Number | WSAC2012.024.004 |
| Acquisition Method | Site responsive commission |
| Artist Location | Washington, United States |
Location Information
Agency
Northshore School District
Artwork Location
Woodinville High School
Main hallway, above Commons area
WA County
King
Placement
Interior
Site Type
Public School
Address
19819 136th Ave NE
Woodinville, WA 98072
Geo. Coordinates
47.771549, -122.161474
Before Visiting
Some artworks may be located in areas not accessible to the general public (especially in K-12 public schools). Consider contacting the site prior to a visit to ensure access.
Map