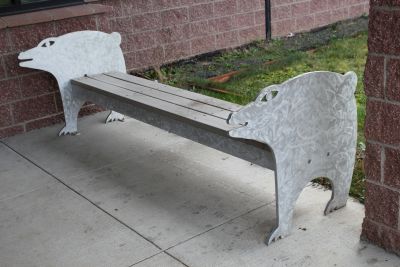 Artwork copyright Garth Edwards. Photo courtesy of Washington State Arts Commission.
Bear Bench,
2001
Garth Edwards

(American, born 1950, died 2021)
ABOUT THE ARTWORK
This piece is part of artist Garth Edward's group of sculptures installed throughout Green Hill School. The school provides education and vocational training for young male offenders as part of Washington's Juvenile Rehabilitation program. Using many different materials, Edwards fills the campus with imaginative and affirming imagery. A mural installed in the visitor's center shows the journey to learn a skilled trade and graduate. Painted aluminum sculptures of plant forms suggest growth and renewal. Concrete 'heads' look out over the grounds like protectors. Four aluminum benches at building entrances feature whimsical bear figures. Aluminum cutouts celebrate the many learning opportunities open to residents. Windows patterned with prisms cast rainbows into the interior spaces of the buildings. Together, these sculptures integrate into the facility and set a positive tone for resident rehabilitation.
This artwork was acquired for the State Art Collection in partnership with Department of Social and Health Services.
ABOUT THE ARTIST
Northwest artist Garth Edwards (1950-2021) created playful, figurative works on paper, sculptures, and installations. He worked mainly in metal and stained glass.
Edwards grew up in Portland, Oregon, and studied glassblowing at Portland State University in Oregon and at Pilchuck Glass School in Stanwood, Northwestern Washington. He taught at Portland Community College and the Oregon School of Arts and Crafts (both in Oregon), and worked full-time as an artist since 1980.
ARTWORK DETAILS
| | |
| --- | --- |
| Material Category | Sculpture - mixed media |
| Medium | Aluminum, recycled plastic, and lumber |
| Dimensions | 2 ft 9 in x 8 ft x 3 ft |
| ID Number | WSAC1998.117.004C |
| Acquisition Method | Site responsive commission |
| Artist Location | Washington, United States |
Location Information
Agency
Department of Children, Youth, and Families
Artwork Location
Green Hill School
Building M (Maple), patio at entrance
WA County
Lewis
Placement
Exterior
Site Type
State Agency
Address
375 SW 11th St
Chehalis, WA 98532
Geo. Coordinates
46.648549 | -122.959115
Before Visiting
Some artworks may be located in areas not accessible to the general public (especially in K-12 public schools). Consider contacting the site prior to a visit to ensure access.
Map




Menu