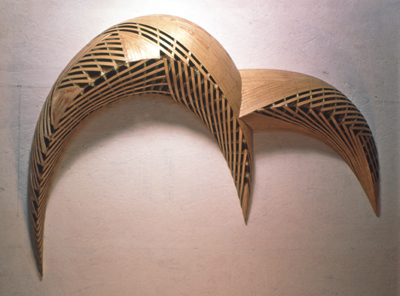 Artwork copyright Darlene Nguyen-Ely. Photo courtesy of the artist.
Journey #77: Untitled,
2000
ABOUT THE ARTWORK
Journey #77: Untitled is part of artist Darlene Nguyen-Ely's Journey series of wood sculptures. Their simple and elegant forms are inspired by the physical structures of airplanes and ships, as well as by the cellular structures of plants and animals.
This artwork was acquired for the State Art Collection in partnership with Tacoma School District.
ABOUT THE ARTIST
Darlene Nguyen-Ely is a Washington-based artist who creates mixed-media and wood sculptures that explore material and form. Many of her works are influenced by the natural landscape and cultural iconography of her native Vietnam.
ARTWORK DETAILS
| | |
| --- | --- |
| Medium | Wood and acrylic paint |
| Dimensions | 3 ft x 2 ft 4 in x 5 in |
| ID Number | WSAC2002.149.000 |
| Acquisition Method | Direct purchase |
| Artist Location | Washington, United States |
Location Information
Agency
Tacoma Public Schools
Artwork Location
Blix Elementary School
Main stairway
WA County
Pierce
Placement
Interior
Site Type
Public School
Address
1302 E 38th Street
Tacoma, WA 98404
Geo. Coordinates
47.222172 | -122.412904
Before Visiting
Some artworks may be located in areas not accessible to the general public (especially in K-12 public schools). Consider contacting the site prior to a visit to ensure access.
Map