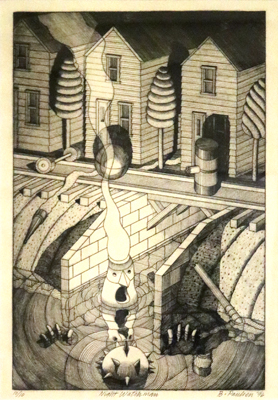 Artwork copyright Brian Paulsen. Photo courtesy of Washington State Arts Commission, 2016.
Night Watchman,
1996
ABOUT THE ARTWORK
Night Watchman is comprised of imagery drawn from artist Brian Paulsen's memories of black and white movies, television, magazines and childhood experiences.
This artwork was acquired for the State Art Collection in partnership with Seattle School District.
ABOUT THE ARTIST
Artist Brian Paulsen creates "slice of life" painted collages of juxtaposed images to explore memory, meaning and association.
ARTWORK DETAILS
| | |
| --- | --- |
| Material Category | Work on paper - print |
| Medium | Engraving on paper |
| Dimensions | 13 1/8 in x 8 3/4 in |
| ID Number | WSAC2002.122.000 |
| Acquisition Method | Direct purchase |
| Artist Location | North Dakota, United States |
Location Information
Agency
Seattle Public Schools
Artwork Location
Greenwood Elementary
3rd floor hallway by staff lounge
WA County
King
Placement
Interior
Site Type
Public School
Address
144 NW 80th St.
Seattle, WA 98117
Geo. Coordinates
47.687295, -122.359929
Before Visiting
Some artworks may be located in areas not accessible to the general public (especially in K-12 public schools). Consider contacting the site prior to a visit to ensure access.
Map