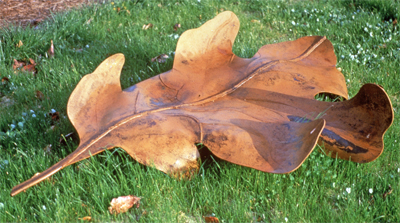 Artwork copyright Douglas Senft. Photo courtesy of the artist.
Large Leaf No. 11 (gary oak 2),
1999
Douglas Senft

(Canadian, born 1950, died 2012)
Location:
Truman Middle School, Tacoma
ABOUT THE ARTWORK
Large Leaf No. 11 (gary oak 2) is part of artist Douglas Senft's body of steel leaves. He forms the leaves using a cutting torch and welding. He describes these sculptures as "artifacts of nature" that respond to the structure, elements, and spaces of the environment around him. He notes, "The materials I work with, have (an implied) permanence that contrasts to the ephemeral nature of the sources of the imagery. It is my intent this contrast will draw attention to the preciousness and precariousness of these resources."
This artwork was acquired for the State Art Collection in partnership with Tacoma School District.
ABOUT THE ARTIST
Late artist Douglas Senft created public sculptures, architectural accessories, and art furniture fabricated from welded steel. Senft's sculptures are inspired by the natural landscapes. He noted, "I work from my responses to the various environments around me; from the intimacy of the flora, the vastness of geography, to the sound of the wind through the cottonwood."
Senft graduated from the Vancouver School of Art (now known as the Emily Carr University of Art and Design) in Vancouver, British Columbia, Canada, in 1972.
ARTWORK DETAILS
| | |
| --- | --- |
| Medium | Cut and forged steel |
| Dimensions | 3 ft 8 3/4 in x 5 ft 8 5/8 in x 16 in |
| ID Number | WSAC2001.027.000 |
| Acquisition Method | Direct purchase |
| Artist Location | British Columbia, Canada |
Location Information
Agency
Tacoma Public Schools
Artwork Location
Truman Middle School
Brick stairway wall connecting 1st & 2nd floors
WA County
Pierce
Placement
Interior
Site Type
Public School
Address
5801 North 35th St.
Tacoma, WA 98407
Geo. Coordinates
47.280346 | -122.513348
Before Visiting
Some artworks may be located in areas not accessible to the general public (especially in K-12 public schools). Consider contacting the site prior to a visit to ensure access.
Map



Menu