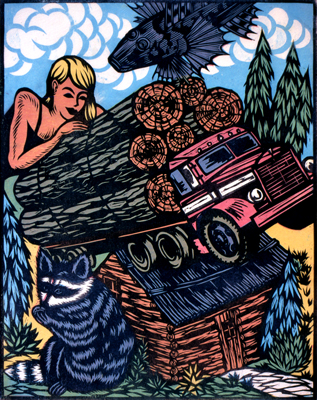 Artwork copyright Michael Dal Cerro. Photo courtesy of the artist.
Forest Neighbors,
2000
ABOUT THE ARTWORK
Playing with gravity, scale, and context, artist Michael Dal Cerro created Forest Neighbors as a fictional visual narrative that causes tension between the real and imagined.
This artwork was acquired for the State Art Collection in partnership with Tahoma School District.
ABOUT THE ARTIST
New Jersey-based artist Michael Dal Cerro utilizes painting, printmaking and digital media to create elaborately imagined compositions. Interested in the invention of forms and visual language, his works play with conventional perspective and figuration. Dal Cerro lived in Seattle, Washington between 1988 and 1993. Many of his artworks from that period depict imagery of the Pacific Northwest. He received a Bachelor of Fine Arts degree from Northern Illinois University in 1975.
ARTWORK DETAILS
| | |
| --- | --- |
| Material Category | Work on paper - print |
| Medium | Woodblock print on paper |
| Dimensions | 15 in x 12 in |
| ID Number | WSAC2000.200.000 |
| Acquisition Method | Direct purchase |
| Artist Location | New Jersey, United States |
Location Information
Agency
Washington State Arts Commission
Artwork Location
Washington State Arts Commission
Not on display. At ArtsWA pending re-siting.
WA County
Thurston
Placement
Interior
Site Type
State Agency
Address
711 Capitol Way S., Suite 600
Olympia, WA 98504
Geo. Coordinates
47.041975 | -122.901474
Before Visiting
Some artworks may be located in areas not accessible to the general public (especially in K-12 public schools). Consider contacting the site prior to a visit to ensure access.
Map




Menu