How to Get on the Public Artist Roster
We are accepting midterm applications to the 2021-2025 Public Artist Roster from May 1, 2023 to June 16, 2023.
The Art in Public Places program (AIPP) is working to make the 2021-2025 Public Artist Roster our most inclusive and equitable ever. We seek a diverse range of artists to create artworks for state agencies, colleges, universities, and public schools throughout Washington state.
The Roster is our main tool for choosing artists. It is a list of artists who pre-qualify to create artworks through our program. It allows for a simplified selection process.
Prepare for your application
Read through all sections of the guidelines on this page thoroughly. You can also print a PDF version for easy reference while you apply.
We ask for exactly eight images of your artwork. Read through our portfolio tips and print for easy reference. Start thinking through and selecting which images to include. Put them together in a central folder or album for easy access.
Use a document or our word worksheet to draft the following application materials. Having everything prepared as a word document means you can easily check your word count, save your work, and cut and paste into the application when you are ready. We ask for:

A statement about your work (250-word limit)
A brief biography (250-word limit)
Image descriptions for each of your eight images (100-word limit, or about 1-3 sentences)
Are you eligible to apply?
The Roster is open to:
individual visual artists
artist teams or artist collectives
You are eligible if you:
live in the United States or British Columbia.
are not be enrolled as a visual arts student as of June 21, 2021.
If selected, you agree to:
create artwork for public spaces
design and propose artworks for approval by AIPP staff and local committees
travel during the proposal process (during the pandemic most meetings are online)
work within a fixed budget and timeline
register as a WA state vendor
adhere to state requirements, such as contractor licenses and paying prevailing wages
fulfill contract terms with ArtsWA
pay applicable taxes
How to apply
You can apply through our  Submittable page. You will need to create an account to apply. You may only submit one application. You cannot apply as both an individual artist and a member of an artist team.
Important dates
Monday, June 21, 2021, 5pm (Pacific): DEADLINE
Monday, May 10, 2021: application opens
August 31, 2021: date we will notify you by
September 2021 to July 2025: when we will use this Roster
(Not ready to apply yet? We will accept midterm applications in spring 2023.)
Please allow time to prepare your materials and apply. You can save your work and come back to it. We do not accept late, incomplete, mailed, or hand-delivered applications.
Application materials
You will need to provide the following when you apply:
your contact information
eight images of your artwork
details about each image (title, date, medium, budget, commissioning agency, etc.), and a short 1-3 sentence description
a brief biography (250-word limit)
a statement about your work (250-word limit)
your project preferences, (project types, regions, budgets, etc.)
your demographic information (optional, we won't share this with the panel)
Please carefully choose and review your materials. If accepted, we share the portfolio that you submit with local art selection committees. Committees review portfolios and choose artists based on their goals for the artwork. They consider audience, locations, local context, and other qualities.
What project opportunities exist?
About Project types Open to the Public Artist Roster
About Project Types Open to the Artist Roster
Site-responsive commissions:

all of our projects are site-responsive. You would work with a local committee to design, fabricate, and install a permanent artwork specific to their community.
Architecturally-integrated projects:

you would work closely with the building's design team to combine artwork with the architecture (i.e. flooring, railings, glazing, lighting, etc.) to create a permanent site-responsive artwork.
Community-engaged commissions:

you would engage with the community as part of your process. This social practice shapes the design of a permanent site-responsive artwork.
Project sites
We use the Roster to choose artists for 20 to 40 projects per year. We place artworks in K-12 public schools, colleges, universities, and state agencies. We place 60% of our artworks in public schools.
Through the upcoming school year, and possibly beyond, all K-12 school projects will be located inside.
Indoor projects can be more equitable for artists. They provide more options for those who are new to public art. Outdoor artworks can be more expensive to produce, install, and maintain. We will continue to commission outdoor artwork for colleges, universities, and state agencies.
The State Art Collection
Your artwork joins the State Art Collection. In 1974, Washington state created the Art in Public Places program (AIPP). With nearly 5,000 artworks, we have one of the nation's largest state-owned art collections. It includes a wide variety of materials and styles by regional and national artists.
We do not commission:
water features
clock towers
memorials
logos
signage
school mascots
What does a project budget cover?
We use the Roster to choose artists for projects with budgets between $45,000 and $250,000. Most budgets fall between $55,000 and $125,000. For projects above $250,000, we hold open calls.
The budget covers all design, fabrication, and installation costs. This includes materials, transportation, licenses, insurance, sales tax, studio space, and related expenses. You can choose which budget ranges you want us to consider you for when you apply.
How do we accept artists?
Voting panel
Five panelists reviews the applications. The panel includes artists and arts administrators. We screen for incomplete, ineligible, and late applications before sharing them with the panel.
What criteria do panelists use to vote on applications?
Panelists use the following criteria:
you communicate a unique vision or perspective
you demonstrate an authentic relationship to your subject matter
you show an ability to engage a site and/or community
you demonstrate skill in your technique
Approval and notification
The panel recommends a Roster of artists to the ArtsWA Board for approval at their August meeting. We will notify you of the Board's decision before August 31, 2021. We will use this Roster until the next call in 2025.
Kipp Kobayashi
Kipp Kobayashi is an artist interested in the traces of human activity and how they transform the structures and systems of our physical world into living entities of our collective thoughts, action and experiences. His work stems from his background growing up as an Asian American which has led to a lifelong interest in deconstructing our preconceived notions of who we are and what we are; breaking them down into the most basic elements of human and natural factors to better understand the unique sets of combinations and patterns that define a more nuanced interpretation of identity and cultural belonging.
Based in Los Angeles, Kobayashi has been commissioned by both public and private agencies across the nation including the Getty Museum, the Metropolitan Water District of Southern California, the Bay Area Rapid Transit District, the Baltimore Red Line, Sound Transit and the Los Angeles County Metropolitan Transit Authority. His recent work includes Collective Transitions" for Meacham Airport in Fort Worth, Texas which was named by Codaworx as one of the top 100 international projects of 2020. Based in Los Angeles, he received a BA from the University of California at Berkeley and an MFA from the University of Southern California. He has taught extensively at the Cal Poly School of Environmental Design and currently serves as vice-chairman of the Public Art Network Advisory Council which provides recommendations and insight to Americans for the Arts for the promotion, development and execution of public art services and resources nationwide.
Roin Morigeau
Roin Morigeau (b. Oct 24, 1984) is an interdisciplinary artist using drawing, painting, sculpture, and poetry to explore the dichotomy between matriarchal and patriarchal space. Producing minimal yet powerful abstract works, Roin explores the feeling of "in-betweenness" they experience as a queer, disabled, gender non-binary person raised in a bi-cultural home. Roin's work lives in public and private collections and has shown in numerous group and solo exhibitions including yəhaw̓ at King St. Station at Seattle Office of Arts + Culture, Whitworth University Bryon Oliver Gallery, Sacred Circle Gallery at Daybreak Star Indian Cultural Center, and the Chase Gallery at Spokane City Hall. They are the owner + curator of YES IS A FEELING an artist run studio space/ gallery in downtown Spokane and are currently serving as president of Saranac Art Projects, an artist cooperative gallery non-profit. Roin is a descendant of the Flathead Salish Tribe of Montana and lives in occupied Spokane territories where they were raised.
Catherine Nueva España | ArtsWA Board Member
Catherine brings to ArtsWA her diverse background in dance, theatre, film and architecture and design. Most recently the executive director at Velocity Dance Center in Seattle, she has supported the arts by serving as a grants panelist for ArtsWA, Seattle Office of Arts and Culture, and 4Culture.  She currently serves on the board of Khambatta Dance Company and is an OAC King Street Station Advisor. She has consulted with arts and other non-profit organizations to increase their organizational capacity, as a program manager at 501 Commons and, prior to that, through her consulting practice based in the San Francisco Bay Area. She graduated from the Laban Conservatoire of Music and Dance and Wellesley College.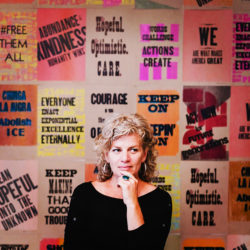 Kristen Ramirez
Kristen Ramirez earned a BA from UC Santa Cruz, a MA in Education and California Teaching Credential from San Francisco State University, and a MFA in Printmaking from the University of Washington. Ramirez works for the City of Seattle managing public art projects for the Office of Arts & Culture and serving as artist-in-residence to the Department of Transportation (SDOT). Prior to her government work, Ramirez worked for over twenty years in education in the Bay Area and the Puget Sound regions. She has taught at Cornish College of the Arts, the University of Washington, Tacoma Museum of Glass, Pratt Fine Arts Center, Edmonds Community College, and through Path with Art, a non-profit that serves adults in recovery. Kristen Ramirez explores many media, including printmaking, drawing, painting, and public art where she loves community-based projects and murals.
Mike Sweney | AIPP Program Manager
Mike joined ArtsWA in 2007 and has led the fabulous public art team since 2011. One of the country's oldest statewide public art programs, Art in Public Places has been a leader in developing and administering best practices for art acquisition and collection care. Mike has managed more than 100 public art projects at Washington's public schools, colleges, universities, and state agencies. Previous positions include the director of Davidson Contemporary in Seattle, director of the Charles Cowles Gallery in New York, board vice president for the Center on Contemporary Art in Seattle, and member of the Tacoma Art Museum's Collection Committee. Mike recently stepped down as chair of the Tacoma Arts Commission, and currently serves on the Advisory Committee for the Jordan Schnitzer Museum of Art at WSU, in Pullman.
Terms and conditions
The artwork you show in your images must be your own. You must give credit to any partners on projects.
Approval to the Roster does not guarantee you will receive a project.
You may only submit one application and cannot apply as both an individual artist and as a member of an artist team.
Artist team dissolution
If you apply as a member of an artist team, we will ask whether your team has a lead artist or if you equally collaborate.
If your team dissolves, we will remove you from the Roster. Any team member may reapply during our mid-term cycle, in 2023, or to the next Roster, in 2025.
If you identify a lead artist and your team dissolves before 2025, the lead artist may remain on the Roster. We will ask them to update their portfolio to reflect their current work.
Appeals
If unsuccessful, you may appeal the Board's decision as per Washington Administrative Code (WAC) 30.12.036.
Additional information
Who we are
ArtsWA is the Washington State Arts Commission. We comply with all local, state, and federal laws and regulations concerning civil and human rights. You can find more information about our policies on Accessibility, Diversity, and Nondiscrimination here.
AIPP vision statement
Art in Public Places is uniquely positioned to advance and support art and artists across Washington. Our goal is to build and care for a dynamic contemporary art collection that is accessible and valued. We seek impactful and lasting artworks that reflect Washington's diverse communities.
Contact us
Give us a call if you have any issues while you apply.
Valerie Peterman, Curated Projects Coordinator: valerie.peterman@arts.wa.gov | 360-252-9986
Mike Sweney, Program Manager: mike.sweney@arts.wa.gov | 360-228-4080
Artist Mentorship Program
Get peer-to-peer support through Artists Up Mentorly
We recognize the importance of a strong, diverse roster.
We are offering a limited number of free 30-minute mentorship sessions to eligible Washington artists through the Artists Up Mentorly program. Mentors will help artists prepare their portfolios and apply.
Artist Mentors have completed a project with us. They are leaders in the field. They represent many different artistic disciplines and perspectives.
The mentorship program has reached capacity for this cycle.
Webinar: How to Apply for the Public Artist Roster
ArtsWA recorded this webinar on May 11, 2021 for artists who want to apply for the Public Artist Roster (PAR). Public Art program staff describe the Public Art program, and the process for applying for PAR. They also provide tips for filling out the application, writing a strong artist's statement, and more. This webinar is approximately one hour in length.
Artist-to-Artist Advice Compilation
We asked artists that have been selected for an ArtsWA project what advice they would give to artists applying for the first time. Check out this compilation video with all of the insightful responses we received from the following artists: Juan Alonso-Rodríguez, Kalina Chung, Jennifer Corio, RYAN! Feddersen, Diane Hansen, and Benson Shaw.
Thank you to the artists for contributing videos, and to Sea is for Carlo for composing the background music.
Explore More of the State Art Collection: