Search the Collection: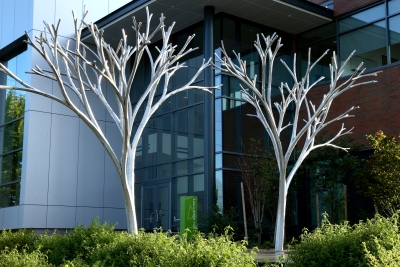 Artwork copyright Paul Sorey. Photo courtesy of the artist.
Artwork Lesson Plan 4 | Creating Public Art (Grades 9-12)
"Creating Public Art: The Process Behind the Product" is a lesson plan suggested for both Visual Arts and Career and Technical Education classes, for students in grades 9-12. To access the complete lesson plan, as well as a presentation document containing images that you can project in your classroom, click on any of the images below and go to "Lesson Plans and Documents".
In this project, students serve as art selection committees, determining site and design recommendations for public art for their own school campus. The theme for developing recommendations for and designing this art is centered on "Education." In response to design recommendations and site opportunities identified by the student art-selection committees, student artists/design teams create a proposal and design for public art. Proposals include a description of art concept and imagery, scale renderings from multiple perspectives, and a description of materials and construction methods.
There are many ways this project can be expanded across multiple disciplines and classes: math, language arts, science, social studies, photography, architecture, drafting/CAD, welding, woodworking, and technology. Designs proposals may have the potential to become real artworks.
The complete lesson plan was developed and written by Meredith Essex, with thanks to Tom Tampa (South Kitsap High School, South Kitsap School District) for development support.
Read Less
Read More →