Search the Collection: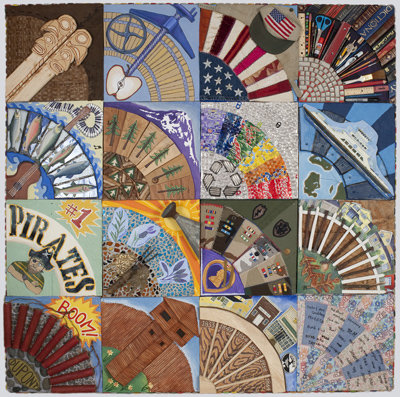 Artwork copyright Ross Palmer Beecher. Photo courtesy of the artist.
Artwork Lesson Plan 3 | Artistic Choices (Grades 6-8)
"Artistic Choices: The Message in the Materials" is a lesson plan suggested for middle school grade levels 6-8. To access the complete lesson plan, as well as a presentation document containing images that you can project in your classroom, click on any of the images below and go to "Lesson Plans and Documents".
In this art lesson students analyze artistic choices in materials and composition seen in Recycled Child, 2009, by Marita Dingus; and Parlour Fan Quilt, 2010, by Ross Palmer Beecher. Students then create a collage self-portrait composition using recycled materials that are chosen for personal meaning.
This lesson plan demonstrates how artists choose, change and arrange recycled materials in ways that can communicate ideas.
The complete lesson plan was developed and written by Meredith Essex, with thanks to T.J. Purdy (First Creek Middle School, South Kitsap School District) for development support.
Read Less
Read More →