Search the Collection: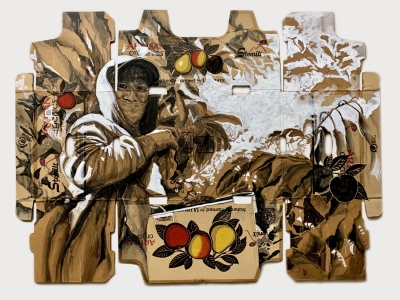 Artwork copyright Narsiso Martinez. Photo courtesy of the artist.
Celebrating Hispanic Heritage Month (Sept. 15 to Oct. 15)
September 15 to October 15 is Hispanic Heritage Month. Here we feature artists of Hispanic heritage who are part of Washington's State Art Collection. These artists and artworks are a part of the fabric of our state's vibrant communities and cultural identity. 13% of Washingtonians claim Hispanic heritage and in many areas of Central and Southeastern Washington, that rate is more than 30%. Many of our local art selection committees want art that reflects their communities. These artworks reflect our diverse heritage and perspectives—past, present, and future.
Why is National Hispanic Heritage Month celebrated from September 15 to October 15? The start date of September 15th was chosen because it is also the Independence Day of Costa Rica, El Salvador, Guatemala, Honduras, and Nicaragua. They all declared their independence from Spain on September 15, 1821. September 16th is Mexico's Independence Day and September 18th is Chile's Independence Day. Both declared their independence from Spain in 1810. September 21st marks the anniversary when Belize gained independence from Great Britain in 1981. Learn more at www.hispanicheritagemonth.gov.
This web exhibition celebrates the rich, creative expression of the artists of Hispanic heritage represented in Washington's State Art Collection via paintings, drawings, photographs, prints, and sculptures.
Each artist is only featured once – click on the artist's name to explore more by that artist.
Read Less
Read More →