Search the Collection: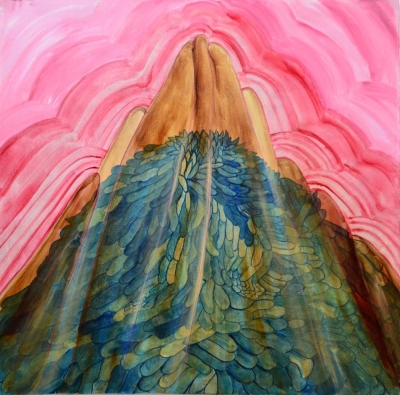 Artwork copyright Saya Moriyasu. Photo courtesy of the artist.
Capitol Campus Child Care Center curated collection at Maple Park in Olympia, curated by Renee Adams
"In choosing art for this collection, the criteria were to find artworks with color and nature-inspired imagery, created by artists from diverse backgrounds and geographies. Encounters with art at a young age can stick with us for a lifetime, so I also made it a priority to select artworks that would be iconic and accessible but might also soothe and inspire wonder in young minds.
Many of the works in the collection have underlying stories, like Joe Feddersen's portrayal of a canoe journey, Jennifer Zwick's portrait of a young child discovering that a tree has grown in her bedroom, or Tracy Poindexter-Canton's collage of two young girls parting ways and inspired by a Toni Morrison novel. Other artworks show the comforts of home and family, like Lauren Iida's cut paper image of a grandmother and child on a bicycle, or Christie Tirado's painting of a motherly figure cradling a heart in her hands. Some artworks harbor hidden imagery that is revealed with each new encounter, such as Carl Chew's tapestry where clouds morph into recognizable shapes like rabbits and fish, or Jack McLarty's painting of a quilt-like garden growing curious and wonderful things. It was also important that I include artworks that celebrate joy and play, like Cheri O'Brien's energetic painting of a circus performance where cats and chickens steal the show. Rich layers of color and pattern abound in Saya Moriyasu's inspiring painting of a mountain and Consuelo Soto Murphy's vibrant sunflowers – rounding out a beautiful collection that I hope will enamor children of all ages for years to come."
–Renee Adams, curator for Maple Park Capitol Campus Child Care Center in Olympia, Western Washington (May 2021). Renee Adams is an artist and curator who lives in the small town of Thorp, in Central Washington.
The Maple Park Capitol Campus Child Care Center has six classrooms, as well as outdoor classrooms and play spaces, for 84 children and 20 staff. The local Art Selection Committee wanted the art to be mainly for the children. They wanted to focus on Northwest artists from diverse backgrounds and geographies, and artworks with color and nature-inspired imagery.
This collection also includes four re-sited artworks that were purchased in the past, for other sites. These artworks needed a new home and were selected by the curator based on her theme.
Read Less
Read More →