Search the Collection: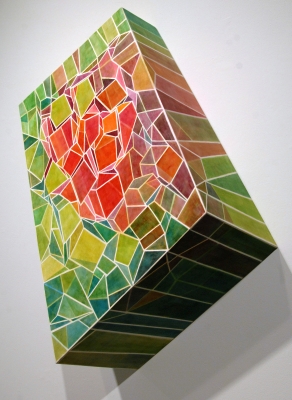 Artwork copyright Cynthia Camlin. Photo courtesy of the artist.
Pioneer Elementary Curated Collection in Shelton, curated by Dawna Holloway
"Art is, simply put, a way for all of us to see the world. Sometimes that involves seeing the world clearly, sometimes it's a new way of looking at the familiar.
The works from these twenty-one artists reinforce that there are as many ways to think about, talk about, and share how we understand our world as there are people. The range of artworks, mediums, styles, and approaches have been selected to inspire and provoke. This array of visions can act as a subtle lesson that art can be created from something as simple as pencil and paper, or as complex as astrophotography.
A drawing like Linda Carlin's carries the message that art need not be complicated to be meaningful. Her techniques and subjects are within the grasp of beginners, yet reward a lifetime of study. At the same time, works by Diem Chau teach us that even the pencil itself can be the focus of an artist's intense gaze, transformed into something sculptural and compelling.
Sometimes approaches overlap. Sharon Marcus' tapestry installations explore abstracted landscapes and other subjects, using a utilitarian technique – weaving – to create her artworks. Chehalis master basket maker Hazel Pete literally weaves the landscape (cattail, bear grass, cedar bark) into her work, making a case for no separation between utility and aesthetic. Art can have use value, and in fact it has a wide variety.
From the "traditional" art approach of the romantically realistic Northwest painting by John Rizzotto, to the intricate, abstract, geometric pattern of the beaded traditional Yakima belt, we can understand that ways of responding to place, space, and time have roots that run deep.
Artists can use similar materials and head in vastly different directions. Cynthia Camlin and Colleen Bratton both use plywood and paint to create unusual three-dimensional artworks. Camlin's abstract imagery explores environmental and geological change while evoking mathematical patterning. Bratton's playful, figurative works with acrylic paint and yarn have a social dimension. Meanwhile, Tuan Nguyen shows us that painting can define its own frame – stretching canvas to echo the shape of the spiderweb that is its central object.
Artists vary in where they draw inspiration. Rather than starting with an idea in mind, Marilyn Frasca lays down a monotype print onto paper and then, after much contemplation, teases out the final, more representational forms using pastels – similar to sculptors who "find what's already in the rock" as they carve. Ruza Erceg took a different approach to waiting for work to emerge: she began a painting career at age 63 after having emigrated to the U.S. and raising nine children. She draws from the well of memory, painting her Yugoslavian homeland.
Photographers Christian French and Daniel Carrillo have different approaches to how they tackle our understanding of the world and our role in it. By staging found objects and photographing them as if they are performing an opera, French aims for a kind of imaginal intimacy. He suggests that play (and plays) are happening all around us: even the junk drawer is alive in his vision. Carrillo turns his camera, and his telescope, into an artistic lens to view space at a much vaster scale, aiming beyond light pollution to peer into the mystery of this world we find ourselves in together.
Art is not something that exists somewhere else, in special, sanctified spaces like museums. It is a tool to investigate and a language to express our vision of the world. Examples like these remind all of us (students and teachers alike) that art and its expression is always available to us."
–Dawna Holloway, curator for Pioneer Elementary, Shelton School District, in Shelton, Mason County, Western Washington (May 2021).
This collection also includes thirteen re-sited artwo
Read Less
Read More →