Search the Collection: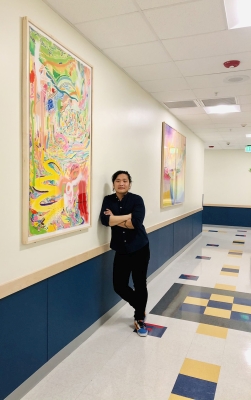 Artwork copyright Nikita Ares. Photo courtesy of the curator, Philippe Hyojung Kim, 2021. Featuring curator Philippe Hyojung Kim.
Simcoe Elementary Curated Collection in Wapato, curated by Philippe Hyojung Kim
The Simcoe Elementary Art Selection Committee emphasized the following interests: artworks that represent Simcoe's diverse families; Wapato's rural and agricultural community; the connection to the Yakama Nation, the Simcoe Highlands, and Mount Adams; and artworks that focus on balance and are reflective of young minds. Simcoe Elementary is located in the Wapato School District, Wapato, Central Washington.
Philippe Hyojung Kim was chosen by the Art Selection Committee as the curator for this curated collection. Kim selected the following artworks for Simcoe Elementary, based on their selection criteria. The artworks were installed at Simcoe Elementary in March 2021.
Read Less
Read More →