Search the Collection: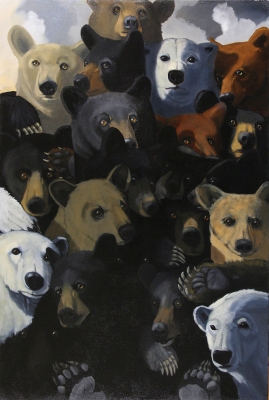 Artwork copyright Robert McCauley. Photo courtesy of the artist.
Harriet Rowley Elementary Curated Collection in Mount Vernon, curated by Kathleen Garrett
"The art at Harriet Rowley Elementary reflects nature in bold forms and bright colors. Landscapes, geology, flora, and fauna from nearby and far away offer a variety of views in sizes from small to large. There are local scenes including Skagit Valley tulip and iris fields by Anacortes painter Alfred Currier, Seattle's Linda Davidson's small series of paintings of Northwest trees, and two paintings of Whatcom County trails depicted by Bellingham artist Joules Martin, one of which even includes dinosaurs! There is also art that depicts more exotic wildlife like the mirror mosaic elephant by Lopez Island artist Kelly O'Dell and the quiet jumble of nineteen bears of all kinds portrayed by Mount Vernon-based painter Robert McCauley. The hope with this collection is to inspire everyone who sees this art to be struck by its creativity and expansiveness, while it reflects the spirit of adventure and possibility of the school's namesake, Harriet Rowley."
–Kathleen Garrett (formerly Kathleen Moles), curator for Harriet Rowley Elementary in Mount Vernon, Mount Vernon School District, in Northwestern Washington (September 2020).
Harriet Wade Rowley (1880-1965) was a nurse from Ohio who opened the first hospital in Mount Vernon in 1920. She was widely known as "Mother Rowley." She is remembered for her indomitable spirit and her desire to help others.
The local Art Selection Committee for Harriet Rowley Elementary wanted artworks to reflect the local landscape and Harriet Rowley's spirit of adventure and possibility.
This collection also includes three re-sited artworks that were purchased in the past, for other sites. These artworks needed a new home and were selected by the curator based on her theme.
Read Less
Read More →