Search the Collection: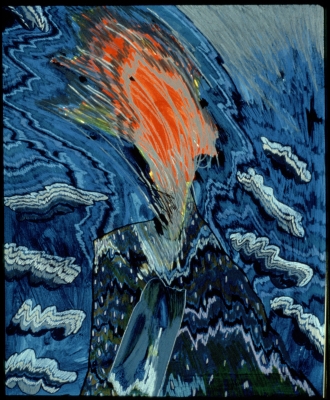 Artwork copyright dick ibach. Photo courtesy of the artist.
Mount St. Helens: Mountain and Muse
Over forty years ago, on May 18, 1980, Mount St. Helens erupted and the Pacific Northwest was never the same again. Artists have been making art that references that event ever since.
These artworks reference the eruption in a variety of ways. Textile artist Helen Bitar added the volcanic imagery to her quilts. Photographer Carolyn Hoffman captured the dramatically scarred landscape with a series of photographs, in 1983, several years after the eruption. Painter dick ibach painted the eruption in expresssive colors and gestures. William Brennen's mural for the Yakima National Guard Armory shows members of the National Guard involved in search and rescue during the eruption. A few other artworks reference the mountain's iconic silhouette—after the eruption with a large section missing and a new crater on the north side of the mountain—as a tame and sleepy background to other subjects and events.
Read Less
Read More →