Search the Collection: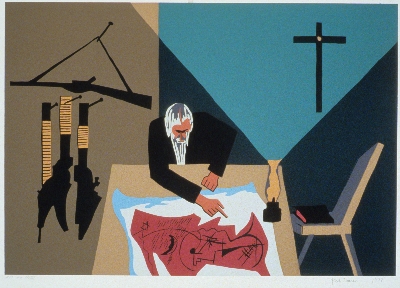 Artwork copyright Jacob Lawrence. Photo by Chris Eden, courtesy of Francine Seders Gallery, Seattle, and The Jacob and Gwen Lawrence Foundation.
Jacob Lawrence: The Legend of John Brown series
"The Legend of John Brown" is made up of 22 screen-prints by African American artist Jacob Lawrence (1917-2000), on the subject of the white abolitionist John Brown. The series is Jacob Lawrence at his full artistic strength with vibrant colors, story-telling precision, and powerful graphic images. Lawrence's art explores the human condition, the African American experience, and American history. This series is also one of Lawrence's many important contributions to the struggle for social justice in American life.
Lawrence dramatically tells the complex story of John Brown. The 22 prints reveal the white, abolitionist's dramatic moral choices and life events. In the mid-1850s, Brown organized secret attacks to liberate enslaved people from southern plantations. He led anti-slavery troops in an effort to keep Kansas a free state. Lawrence begins the series with Brown's decision to become an activist and shows his struggle as an organizer and strategist. He ends it with Brown's capture, conviction, and execution for treason in the winter of 1859.
Lawrence vividly shows how John Brown's single-mindedness and violence were heroic, but also foolish and reckless. Brown was a controversial figure during his own lifetime and still is today. What began as an attack on supporters of slavery swelled into an effort to bring about the complete downfall of the South. Brown's actions and notoriety contributed to the onset of the American Civil War, which ultimately achieved his goal of ending slavery. But his tactics were daring and sometimes misguided, resulting in bloody battles and heavy losses, including the death of Brown's own son. Lawrence tells this intense story, asking us questions, but not giving us any easy answers.
In "The Legend of John Brown" Jacob Lawrence asks us to explore a critical moment in American history. Lawrence also highlights the important role of art and artists in interpreting and sharing history.
"The Legend of John Brown" print series is based on a suite of original gouache paintings that Jacob Lawrence created in 1941. They are now in the permanent collection of the Detroit Institute of Arts. The screen-print series was produced in 1977 because the paintings were too fragile to be on view. The Washington State Arts Commission (ArtsWA) purchased the series in 1995 for the State Art Collection. You can go see the series at the University of Washington, in the Computer Science and Engineering Building, on the 2nd and 3rd floors (and this is a public building that everyone can enter during open hours).
Read Less
Read More →