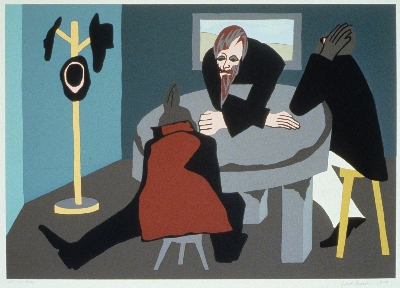 Artwork copyright Jacob Lawrence. Photo by Chris Eden, courtesy of Francine Seders Gallery, Seattle, and The Jacob and Gwen Lawrence Foundation.
No. 7 To the people he found worthy of his trust, he communicated his plans. From the series The Legend of John Brown,
1977
Jacob Lawrence

(American, born 1917, died 2000)
ABOUT THE ARTWORK
Jacob Lawrence's 'The Legend of John Brown' series tells the true story of the controversial, white abolitionist John Brown in 22 prints with narrative titles. Inspired by oral histories of Brown's life and death, the series was first painted in 1941 and later made into a print series.
John Brown (1800-1859) believed that slavery could only be ended with violence. He planned to raid a U.S. military arsenal to arm hundreds of enslaved African Americans. He and his followers were overpowered by federal troops. Brown was convicted for treason, murder, and inciting enslaved people to revolt and was hanged.
In the 1970s, the owner of the original gouache paintings, The Detroit Institute of Arts, decided that they were too fragile to be on view. They commissioned Lawrence to recreate the artworks in a limited edition print series, so that we can all continue to experience them. The resulting series of 22 silkscreen prints is on display at the University of Washington, where Jacob Lawrence was a professor.
This artwork was acquired for the State Art Collection in partnership with Departments of Natural Resources and Labor and Industries.
ABOUT THE ARTIST
Celebrated artist Jacob Lawrence created distinctive artworks in an expressive and abstracted style. His art explores the human condition, the African American experience, American history, and themes of social justice. Lawrence and his wife, artist Gwen Knight, had a life-long partnership of creative and critical guidance and support. About his own work, Lawrence said "When the subject is strong, simplicity is the only way to treat it."
Lawrence began his art career during the Harlem Renaissance, in 1930s New York City. In 1941, he was the first African American artist to be represented in the collection of the Museum of Modern Art (MOMA) in New York City. During World War II (1939-45), he was drafted into the United States Coast Guard and served in a segregated regiment and as Coast Guard Artist. He became an influential teacher across the country, including at Black Mountain College in North Carolina. He was Professor Emeritus at the University of Washington in Seattle, where he taught from 1970 to 1985.
Major retrospectives of Lawrence's work were held at the Whitney Museum of American Art in New York City in 1974 and at Seattle Art Museum in 2003. His artworks are in the permanent collections of over 200 museums, including the Metropolitan Museum of Art, the Museum of Modern Art (MOMA), the National Gallery of Art in Washington D.C., and the White House Art Collection. He was honored with a Washington State Governor's Arts and Heritage Award in 1984. His artworks and legacy continue to inspire discussions about art, society, and social justice.
ARTWORK DETAILS
| | |
| --- | --- |
| Material Category | Work on paper - print |
| Medium | Screen print on paper |
| Dimensions | 20 in x 25 7/8 in |
| ID Number | WSAC1995.429.007 |
| Acquisition Method | Direct purchase |
| Artist Location | Washington, United States |
Location Information
Agency
University of Washington
Artwork Location
University of Washington
Allen School of Computer Science and Engineering, 2nd and 3rd floors (185 E Stevens Way NE, Seattle)
WA County
King
Placement
Interior
Site Type
University
Address
15th Ave. NE, between NE Pacific St. and NE 45th St.
Seattle, WA 98195
Geo. Coordinates
47.653503 | -122.305853
Before Visiting
Some artworks may be located in areas not accessible to the general public (especially in K-12 public schools). Consider contacting the site prior to a visit to ensure access.
Map




Menu