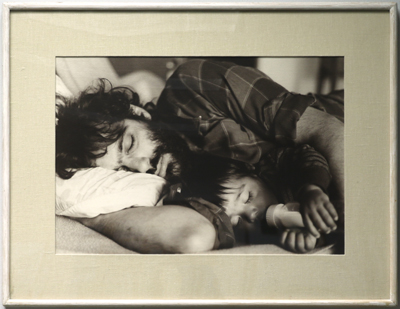 Artwork copyright Trinidad Krystal. Photo courtesy of Washington State Arts Commission.
Father and Son,
1980
Trinidad Krystal

(American | Papago | Cahuilla, born 1954)
ABOUT THE ARTWORK
Father and Son is an intimate portrait of familial connection, captured by artist Trinidad Krystal. Of his work, Krystal notes "the way I try to utilize photography expressively is very similar to the way people of my native culture used traditional secular song form to express their lives and the events that shaped them."
This artwork is part of Beyond Blue Mountains, a collection that was curated by late Tlingit (Native Alaskan) artist Jim Schoppert. It presents the work of Native American artists of diverse heritage, ideas, materials, and styles. The collection takes an in-depth look at the artists' unique voices and interpretations of tradition.
This artwork was acquired for the State Art Collection in partnership with Department of Corrections.
ABOUT THE ARTIST
Native American photographer and musician Trinidad Krystal captures images of musical artists and portraits of Native American figures. He studied painting at the University of California, Los Angeles, and photography at Santa Monica College.
ARTWORK DETAILS
| | |
| --- | --- |
| Material Category | Work on paper - photograph |
| Medium | Selenium-toned photograph |
| Dimensions | 13 1/4 in x 19 in (sheet) |
| ID Number | WSAC1985.070.000 |
| Acquisition Method | Direct purchase |
| Artist Location | California, United States |
Location Information
Agency
Department of Corrections
Artwork Location
Washington State Arts Commission
Not on display. At ArtsWA pending reframing.
WA County
Clallam
Placement
Interior
Site Type
State Agency
Address
1830 Eagle Crest Way
Clallam Bay, WA 98326
Geo. Coordinates
48.240163 | -124.287408
Before Visiting
Some artworks may be located in areas not accessible to the general public (especially in K-12 public schools). Consider contacting the site prior to a visit to ensure access.
Map




Menu