Search the Collection: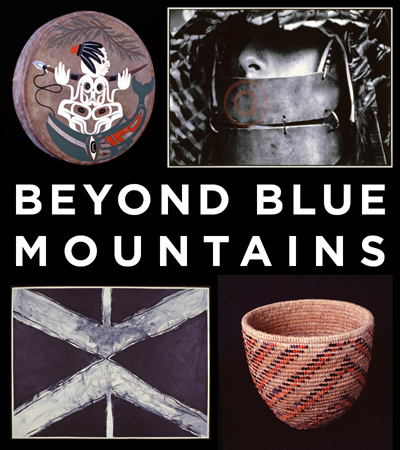 Artwork copyright . clockwise from top left: Art Thompson, Jolene Rickard, Elaine Timentwa Emerson, and P.Y. Minthorn. Composite photo courtesy of Washington State Arts Commission.
Beyond Blue Mountains: Artworks by Native American Artists
"...beyond Blue Mountains where swift streams
flowing
vein the countryside like an old man's hand

Beyond the Lavadour hills
beneath the surface of practiced composure
lay
the dark hills
dreaming."
–Excerpted from "Lay the Dark Hills Dreaming" by Tlingit artist and poet Jim Schoppert
Beyond Blue Mountains is a collection of artworks by Native American artists. Late Tlingit (Native Alaskan) artist Jim Schoppert curated the collection, organized by the Washington State Arts Commission (ArtsWA). Between 1984 and 1985, Schoppert and ArtsWA project coordinator Deborah Rutherford travelled to major tribal communities across the Pacific Northwest. These communities included Makah, Lummi, Colville, Yakima, Squaxin Island, Skokomish, Suquamish, and Umatilla. They held artist gatherings to explore and discuss the work done by each community's artists and craftspeople. They then selected works of art for purchase through the recommendation of a local tribal representative.
After a year of statewide travel, the Beyond Blue Mountains team sought to include national perspectives in the collection. They invited Native American artists working in contemporary styles throughout the United States to apply for representation. Schoppert, Native American contemporary artist Jaune Quick-to-See Smith, and late arts advocate and patron Anne Gerber selected these artworks.
A diversity of artistic mastery, cultural importance, and expressive styles define this collection. In the late 1980s, the artworks were organized into smaller travelling exhibitions. Schools and cultural institutions across Washington State viewed these exhibitions between 1988 and 1995.
You can find an extensive workbook of enrichment materials, published by ArtsWA in 1988 to accompany the exhibitions, linked to each artwork page as a PDF. The workbook asks viewers to explore three "layers" to each artwork:
FORM – the physical elements of the artwork.
CULTURE – the social environment and context of its making.
INDIVIDUAL – the artist's perspective as expressed by the artwork.
This web exhibition and the presentation of the Beyond Blue Mountains collection is a work in progress. We welcome suggestions on how to optimize the exhibition as a resource for educators. Please share your input at collections@arts.wa.gov.
Read Less
Read More →