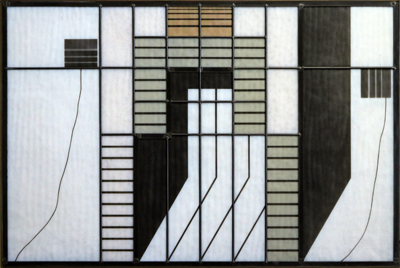 Artwork copyright John Forsgren. Photo courtesy of Washington State Arts Commission, 2016.
S-7,
1982
ABOUT THE ARTWORK
Created by Portland, Oregon-based artist John Forsgren from leaded glass, S-7 is an abstract geometric composition evoking dimensionality and perspective while reducing color and line into pure forms.
This artwork was acquired for the State Art Collection in partnership with South Seattle Community College.
ABOUT THE ARTIST
John Forsgren is a Portland, Oregon based artist.
If you can add to this information, please contact us at collections@arts.wa.gov.
ARTWORK DETAILS
| | |
| --- | --- |
| Material Category | Sculpture - glass |
| Medium | Leaded and sandblasted glass |
| Dimensions | 24 1/2 in x 36 3/8 in x 3/4 in |
| ID Number | WSAC1983.177.000 |
| Acquisition Method | Direct purchase |
| Artist Location | Oregon, United States |
Location Information
Agency
South Seattle College
Artwork Location
South Seattle College
Robert Smith Building (RSB), Room 43, Registrar's office
WA County
King
Placement
Interior
Site Type
College
Address
6000 16th Ave. SW
Seattle, WA 98106
Geo. Coordinates
47.548013, -122.352559
Before Visiting
Some artworks may be located in areas not accessible to the general public (especially in K-12 public schools). Consider contacting the site prior to a visit to ensure access.
Map