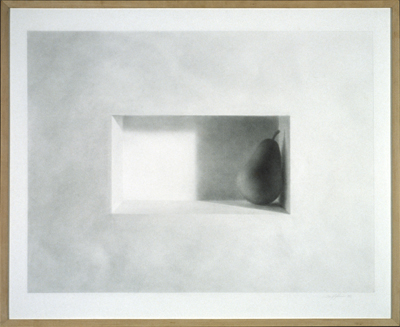 Artwork copyright Terry Lee Johnson. Photo courtesy of the artist.
Untitled,
1981
Location:
Reardan High School, Reardan
ABOUT THE ARTWORK
This drawing is an example of artist Terry Lee Johnson's still-life artworks that examine the quality of shadow, light, and form of pears placed in a shadowbox.
This artwork was acquired for the State Art Collection in partnership with Reardan-Edwall School District.
ABOUT THE ARTIST
Figurative painter Terry Lee Johnson received a Bachelor of Arts from St. Could State College in Minnesota, and his Master of Fine Arts from the University of Washington in Seattle in 1978. He taught at Cornish College of the Arts in Seattle for over twenty years. He lives and works in the San Juan Islands in Puget Sound, Western Washington.
ARTWORK DETAILS
| | |
| --- | --- |
| Medium | Graphite |
| Dimensions | 32 in x 40 in |
| ID Number | WSAC1982.022.000 |
| Acquisition Method | Direct purchase |
| Artist Location | Washington, United States |
Location Information
Agency
Reardan-Edwall School District
Artwork Location
Reardan High School
Staff room
WA County
Lincoln
Placement
Interior
Site Type
Public School
Address
215 East Spokane Ave.
Reardan, WA 99029
Geo. Coordinates
47.66739 | -117.876407
Before Visiting
Some artworks may be located in areas not accessible to the general public (especially in K-12 public schools). Consider contacting the site prior to a visit to ensure access.
Map




Menu