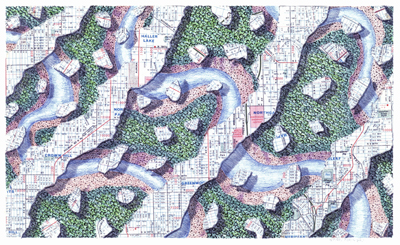 Artwork copyright Stanley Hain. Photo courtesy of the artist.
Water Flowing Underground,
1983
Location:
Sunnyslope Elementary, Port Orchard
ABOUT THE ARTWORK
Water Flowing Underground is a drawing created by artist Stanley Hain. He created this piece as part of a series that combine natural and man-made elements. He paired grass, trees, and water with maps, bricks, and asphalt. He notes, "These pieces focus on the fluid quality of natural forms on which an actual or hypothetical human-imposed grid has been laid."
This artwork was acquired for the State Art Collection in partnership with South Kitsap School District.
ABOUT THE ARTIST
Stanley Hain is a Seattle-based artist. He creates ceramic and mixed-media artworks.
Hain received an Associate of Arts degree from Columbia Junior College in Columbia, California in 1973. He received a Bachelor of Arts degree from Humboldt State University in Arcata, California in 1976. He has taught ceramics at Seattle Pottery and Factory of Visual Arts in Seattle, Washington.
ARTWORK DETAILS
| | |
| --- | --- |
| Medium | Prismacolor pencil, zipatone, maps, and graphite on paper |
| Dimensions | 10 1/2 in x 13 1/2 in |
| ID Number | WSAC1984.032.000 |
| Acquisition Method | Direct purchase |
| Artist Location | Pennsylvania, United States |
Location Information
Agency
South Kitsap School District
Artwork Location
Sunnyslope Elementary
End of first hallway
WA County
Kitsap
Placement
Interior
Site Type
Public School
Address
4183 Sunnyslope RD SW
Port Orchard, WA 98366
Geo. Coordinates
47.511244 | -122.730338
Before Visiting
Some artworks may be located in areas not accessible to the general public (especially in K-12 public schools). Consider contacting the site prior to a visit to ensure access.
Map


Menu