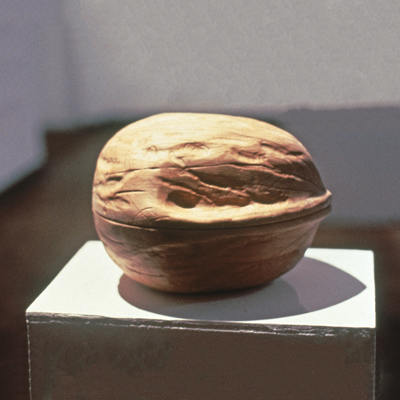 Artwork copyright Harold Hoy. Photo courtesy of the artist.
Walnut,
1977
Harold Hoy

(American, born 1941)
Location:
Woodlands Elementary, Bremerton
ABOUT THE ARTWORK
Artist Harold Hoy carved Walnut from Alder wood. Hoy notes that his sculptural works often explore the contrast between the modern world and the natural environment.
This artwork was acquired for the State Art Collection in partnership with Central Kitsap School District.
ABOUT THE ARTIST
Oregon-based artist Harold Hoy creates figurative animal sculptures from galvanized steel. His materials and process of construction are conceptually inspired by the "Erector Set" metal toy construction sets.
Hoy received his Bachelor of Arts degree from Central Washington University in Ellensburg and his Master of Fine Arts degree in painting and sculpture from the University of Oregon.
ARTWORK DETAILS
| | |
| --- | --- |
| Material Category | Sculpture - wood |
| Medium | Alder wood |
| Dimensions | 8 in x 10 in x 8 in |
| ID Number | WSAC1979.100.000 |
| Acquisition Method | Direct purchase |
| Artist Location | Oregon, United States |
Location Information
Agency
Central Kitsap School District
Artwork Location
Woodlands Elementary
Library, outside Room 305
WA County
Kitsap
Placement
Interior
Site Type
Public School
Address
7420 Central Valley Road NE
Bremerton, WA 98311
Geo. Coordinates
47.629964 | -122.648467
Before Visiting
Some artworks may be located in areas not accessible to the general public (especially in K-12 public schools). Consider contacting the site prior to a visit to ensure access.
Map


Menu