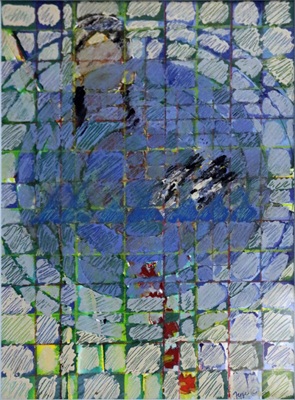 Artwork copyright Jo Fyfe. Photo courtesy of Washington State Arts Commission.
She Who Watches,
1996
Jo Fyfe

(American, born 1941)
ABOUT THE ARTWORK
She Who Watches explores Native American spirituality, abstractly depicting a Plateau woman in traditional dress emerging from a geometric pattern, and represents a reverence for the earth. Artist Jo Fyfe created this piece to "activate the viewer's imagination, to look inward on themselves and to encourage one to think about what is important to all animals, peoples, and the environment."
This artwork was acquired for the State Art Collection in partnership with Kent School District.
ABOUT THE ARTIST
Spokane, Eastern Washington-based artist Jo Fyfe explores color, texture, and narrative using a variety of materials and found objects.
Born in Omak, Northeastern Washington, her artworks are influenced by the heritage of Native American cultures of the interior Pacific Northwest.
ARTWORK DETAILS
| | |
| --- | --- |
| Material Category | Painting - paint on rigid surface / mixed media |
| Medium | Acrylic paint on board |
| Dimensions | 13 1/2 in x 9 1/2 in |
| ID Number | WSAC1998.165.000 |
| Acquisition Method | Direct purchase |
| Artist Location | Washington, United States |
Location Information
Agency
Kent School District
Artwork Location
Glenridge Elementary
Library
WA County
King
Placement
Interior
Site Type
Public School
Address
19405 120th Ave SE
Kent, WA 98058
Geo. Coordinates
47.428276 | -122.182903
Before Visiting
Some artworks may be located in areas not accessible to the general public (especially in K-12 public schools). Consider contacting the site prior to a visit to ensure access.
Map




Menu