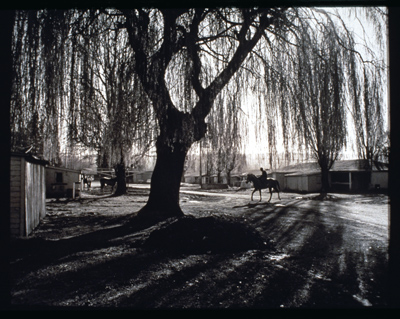 Artwork copyright David Grant Best. Photo courtesy of the artist.
Willows and Morning Ride, Longacres Park,
1991
Location:
Thorp School, Thorp
ABOUT THE ARTWORK
Willows and Morning Ride, Longacres Park is part of a series of photographs by artist David Grant Best called "Portrait of a Racetrack." The series documented the historic Longacres Park racetrack in Renton, Western Washington, which closed in 1992. This image was captured on an early spring morning. Best notes that the image "evokes a romantic atmosphere that could be a setting for a novel or movie."
This artwork was acquired for the State Art Collection in partnership with Thorp School District.
ABOUT THE ARTIST
Northwest photographer David Grant Best composes images of the natural environment and rural communities. He received a Bachelor of Arts degree in sociology from the University of Washington in 1972.
ARTWORK DETAILS
| | |
| --- | --- |
| Medium | Gelatin silver print |
| Dimensions | 14 3/4 in x 18 3/4 in |
| ID Number | WSAC1993.057.000 |
| Acquisition Method | Direct purchase |
| Artist Location | Washington, United States |
Location Information
Agency
Thorp School District
Artwork Location
Thorp School
Main library
WA County
Kittitas
Placement
Interior
Site Type
Public School
Address
10831 N. Thorp Highway
Thorp, WA 989460150
Geo. Coordinates
47.069544 | -120.675040
Before Visiting
Some artworks may be located in areas not accessible to the general public (especially in K-12 public schools). Consider contacting the site prior to a visit to ensure access.
Map





Menu