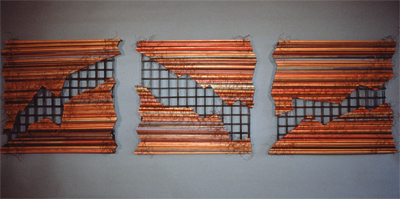 Artwork copyright Katherine Holzknecht. Photo courtesy of the artist.
Seismic Separation,
1986
Location:
Keene-Riverview Elementary, Prosser
ABOUT THE ARTWORK
Artist Katherine Holzknecht's wall sculpture Seismic Separation is part of a series of artworks that depict splits and cracks. The composition of this piece suggests powerful forces of nature, and concepts of isolation and loneliness. The artist notes that the creation of this piece helped her work through the divorce and break-up of several friends. She describes how, when a family's foundation becomes unstable, "It makes everyone involved feel shaky and uncertain. It would be similar to living on top of an active fault line in an earthquake zone."
This artwork was acquired for the State Art Collection in partnership with Prosser School District.
ABOUT THE ARTIST
Northwest artist Katherine Holzknecht creates artworks in cast cement, mixed material wall assemblage, watercolor paints, and stained glass.
Holzknecht earned a Bachelor of Arts degree and a Master of Arts degree in Textile Design and Fiber Arts from the University of Washington in Seattle. She lives and works in Woodinville, Washington.
ARTWORK DETAILS
| | |
| --- | --- |
| Medium | Mixed media low relief wall assemblage |
| Dimensions | Three parts, 25 1/4 in x 28 in x 4 each in (irregular dimensions) |
| ID Number | WSAC1987.042.00A-C |
| Acquisition Method | Direct purchase |
| Artist Location | Washington, United States |
Location Information
Agency
Prosser School District
Artwork Location
Keene-Riverview Elementary
Room 20 - Special Education
WA County
Benton
Placement
Interior
Site Type
Public School
Address
832 Park Ave
Prosser, WA 993501221
Geo. Coordinates
46.200470 | -119.775485
Before Visiting
Some artworks may be located in areas not accessible to the general public (especially in K-12 public schools). Consider contacting the site prior to a visit to ensure access.
Map



Menu