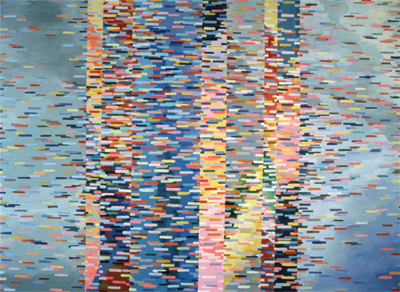 Artwork copyright Miro Fitzgerald. Photo courtesy of the artist.
Madera,
1995
ABOUT THE ARTWORK
Madera is an expressively colorful abstract painting by artist Miro Fitzgerald. This piece is part of a body of work composed using a metronome to guide the artist's layering of repetitive brushstrokes. She notes, "The intent of the work is not to have the mind see objects or realistic elements in the work but rather regard it as a movement, a pattern of depth and motion much like one would view water patterns, the movement of sleet, snow, or the aerial perspective one experiences while flying and looking down."
This artwork was acquired for the State Art Collection in partnership with Medical Lake School District.
ABOUT THE ARTIST
Arizona-based artist Miro Fitzgerald creates colorful and gestural abstract and impressionistic paintings. She describes her works, which highlight individual brushstrokes, as sensory and molecular. She previously lived in Ocean Shores, Washington.
ARTWORK DETAILS
| | |
| --- | --- |
| Material Category | Painting - paint on fabric |
| Medium | Acrylic paint on canvas |
| Dimensions | 3 ft x 4 ft |
| ID Number | WSAC1996.033.000 |
| Acquisition Method | Direct purchase |
| Artist Location | Arizona, United States |
Location Information
Agency
Medical Lake School District
Artwork Location
Hallett Elementary
Fifth grade hall
WA County
Spokane
Placement
Interior
Site Type
Public School
Address
524 S Hallett St.
Medical Lake, WA 99022
Geo. Coordinates
47.568312, -117.678220
Before Visiting
Some artworks may be located in areas not accessible to the general public (especially in K-12 public schools). Consider contacting the site prior to a visit to ensure access.
Map