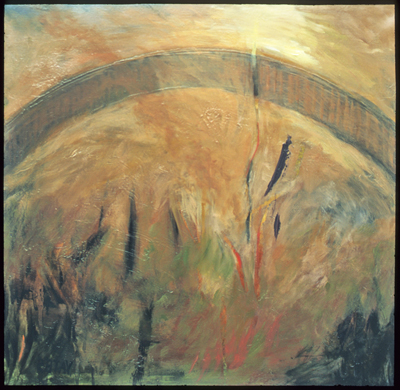 Artwork copyright Stephen Yates. Photo courtesy of the artist.
Crossing,
1993
Location:
Tacoma Community College, Tacoma
ABOUT THE ARTWORK
Crossing is part of a series of paintings by artist Stephen Yates that explore ideas of movement and change. Comprised of expressive abstract marks and a central arch or bridge, this piece suggests progress and growth while remaining open to the viewer's interpretation.
This artwork was acquired for the State Art Collection in partnership with Tacoma Community College.
ABOUT THE ARTIST
Artist Stephen Yates creates expressive paintings that explore gestural representation and abstraction. Inspired by landscapes, under water life, and the cosmos, Yates' work investigates color relationships and the dynamic interaction of forms. He lives and works in Port Townsend, on the Olympic Peninsula in Northwestern Washington.
ARTWORK DETAILS
| | |
| --- | --- |
| Material Category | Painting - paint on fabric |
| Medium | Oil on canvas |
| Dimensions | 21 in x 21 1/2 in |
| ID Number | WSAC1995.419.000 |
| Acquisition Method | Direct purchase |
| Artist Location | Washington, United States |
Location Information
Agency
Tacoma Community College
Artwork Location
Tacoma Community College
Building 11, Bookstore
WA County
Pierce
Placement
Interior
Site Type
College
Address
6501 S 19th St.
Tacoma, WA 98466
Geo. Coordinates
47.245801 | -122.524290
Before Visiting
Some artworks may be located in areas not accessible to the general public (especially in K-12 public schools). Consider contacting the site prior to a visit to ensure access.
Map

Menu