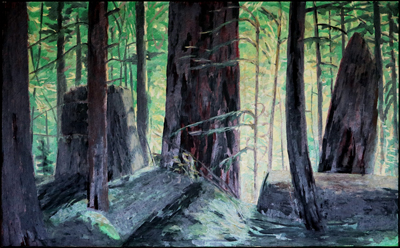 Artwork copyright Michael Brophy. Photo courtesy of Washington State Arts Commission.
Yellow Light,
1994
Location:
Lakeridge Elementary, Seattle
ABOUT THE ARTWORK
Yellow Light intricately depicts the variations of color and light found in a Northwest forest. Artist Michael Brophy creates paintings concerned with "the natural world's impact on us, and in turn, our impact on the world."
This artwork was acquired for the State Art Collection in partnership with Renton School District.
ABOUT THE ARTIST
Portland, Oregon-based artist Michael Brophy creates realist paintings that depict the beauty, subtlety, and complexity of the Pacific Northwest landscape.
Brophy studied at the University of Oregon in Eugene and at the Studio Arts College International in Florence, Italy. He received a Bachelor of Fine Arts degree from the Pacific Northwest College of Art in Portland, Oregon, in 1985.
ARTWORK DETAILS
| | |
| --- | --- |
| Material Category | Painting - paint on fabric |
| Medium | Oil on canvas |
| Dimensions | 36 in x 57 in |
| ID Number | WSAC1995.287.000 |
| Acquisition Method | Direct purchase |
| Artist Location | |
Location Information
Agency
Renton School District
Artwork Location
Lakeridge Elementary
Center building, above stairs
WA County
King
Placement
Interior
Site Type
Public School
Address
7400 S. 115th St.
Seattle, WA 98178
Geo. Coordinates
47.499870 | -122.239990
Before Visiting
Some artworks may be located in areas not accessible to the general public (especially in K-12 public schools). Consider contacting the site prior to a visit to ensure access.
Map

Menu