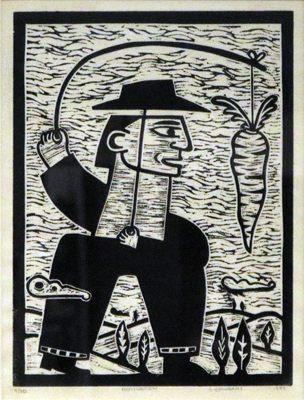 Artwork copyright Garth Edwards. Photo courtesy of Washington State Arts Commission.
Motivation,
1993
Location:
Kent School District, Kent
ABOUT THE ARTWORK
The block print Motivation was based on a drawing artist Garth Edwards created spontaneously, and depicts a man dangling a carrot in front of himself. Edwards notes that this piece is "about being self motivated and making your own goals."
This artwork was acquired for the State Art Collection in partnership with Kent School District.
ABOUT THE ARTIST
Northwest artist Garth Edwards creates playful, figurative works on paper, sculptures, and installations. He studied at Pilchuck Glass School in Stanwood, Northwestern Washington. He has taught at Portland Community College and the Oregon School of Arts and Crafts.
ARTWORK DETAILS
| | |
| --- | --- |
| Material Category | Work on paper - print |
| Medium | Linoprint |
| Dimensions | 9 in x 12 in |
| ID Number | WSAC1994.145.000 |
| Acquisition Method | Direct purchase |
| Artist Location | Washington, United States |
Location Information
Agency
Kent School District
Artwork Location
Kent School District
A-300 office
WA County
King
Placement
Interior
Site Type
Public School
Address
12033 SE 256th St.
Kent, WA 98030
Geo. Coordinates
47.371313 | -122.179802
Before Visiting
Some artworks may be located in areas not accessible to the general public (especially in K-12 public schools). Consider contacting the site prior to a visit to ensure access.
Map


Menu