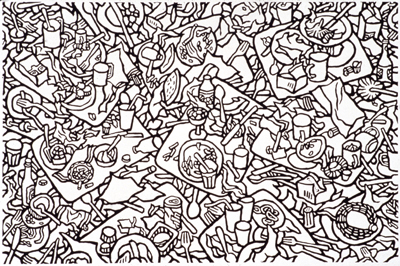 Artwork copyright Gu Xiong. Photo courtesy of the artist.
Cafeteria #1,
1993
Gu Xiong

(Canadian | Chinese, born 1953)
Location:
Hamblen Elementary, Spokane
ABOUT THE ARTWORK
Artist Gu Xiong created the elaborately patterned print Cafeteria #1 as a meditation on wastefulness. The imagery depicts trays filled with discarded items that Xiong collected while working as a cafeteria busboy. The artist states, "we can produce as many things as we like, but we cannot recreate nature."
This artwork was acquired for the State Art Collection in partnership with Spokane School District.
ABOUT THE ARTIST
Based in Vancouver, Canada, multi-media artist Gu Xiong creates artworks that explore questions of cultural identity. Xiong is a professor of art at the University of British Columbia in Vancouver. His artworks are in the collections of the National Gallery of Canada, the China National Museum of Fine Arts, and the Vancouver Art Gallery, among others.
Xiong was born in Chongqing, Sichuan, China in 1953. At age 18, during the Chinese cultural revolution, he was sent to live in the countryside. Xiong received a Bachelor of Fine Arts degree and a Master of Fine Arts degree (1985) from the Sichuan Fine Arts Institute in China. In 1986, he attended an artist residency at the Banff Centre for the Arts in Alberta, Canada, becoming the first artist from the People's Republic of China to do so. After returning to China, he was a part of the 1989 "China Avant-Garde" exhibition that was shut down by the Chinese police a few hours after it opened, four months before the Tiananmen Square protests of 1989. Xiong immigrated from China to Vancouver, British Columbia, Canada in 1989.
ARTWORK DETAILS
| | |
| --- | --- |
| Medium | Silkscreen print |
| Dimensions | Image, 15 1/4 in x 23 1/4 in |
| ID Number | WSAC1994.071.000 |
| Acquisition Method | Direct purchase |
| Artist Location | British Columbia, Canada |
Location Information
Agency
Spokane Public Schools
Artwork Location
Hamblen Elementary
Multipurpose room, north wall
WA County
Spokane
Placement
Interior
Site Type
Public School
Address
2121 E Thurston Ave
Spokane, WA 99203
Geo. Coordinates
47.617607 | -117.380009
Before Visiting
Some artworks may be located in areas not accessible to the general public (especially in K-12 public schools). Consider contacting the site prior to a visit to ensure access.
Map



Menu