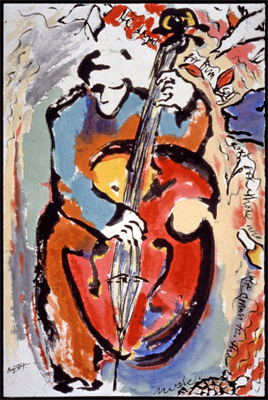 Artwork copyright Angie Dixon. Photo courtesy of the artist.
Bass Player,
1994
Location:
Manitou Elementary, Tacoma
ABOUT THE ARTWORK
Bass Player is part of artist Angie Dixon's group of artworks about the performing arts. She created this piece using traditional ink painting techniques and rice paper. She added watercolors and gouache for rich color, in vibrant harmony with the black Japanese sumi ink. She notes, "In this piece the bass player is completely lost and absorbed in his music. Written on the painting are the words 'He played for himself and for those drawn to the music.' Animals approach from the edges of the piece to listen to him."
This artwork was acquired for the State Art Collection in partnership with Tacoma School District.
ABOUT THE ARTIST
Artist Angie Dixon depicts her love of the Pacific Northwest in sumi paintings using traditional East Asian brush and ink techniques. Her interest in sumi ink painting began as an art student at the University of Washington in Seattle in 1975. She pursued graduate studies in fine art and art history in Hangzhou, China in 1984. She is based on Whidbey Island, in Northwestern Washington.
ARTWORK DETAILS
| | |
| --- | --- |
| Medium | Sumi ink and gouache on rice paper |
| Dimensions | 36 in x 23 3/4 in |
| ID Number | WSAC1994.047.000 |
| Acquisition Method | Direct purchase |
| Artist Location | Washington, United States |
Location Information
Agency
Tacoma Public Schools
Artwork Location
Manitou Elementary
East commons hallway
WA County
Pierce
Placement
Interior
Site Type
Public School
Address
4330 S 66th St
Tacoma, WA 98409
Geo. Coordinates
47.197333 | -122.495086
Before Visiting
Some artworks may be located in areas not accessible to the general public (especially in K-12 public schools). Consider contacting the site prior to a visit to ensure access.
Map





Menu