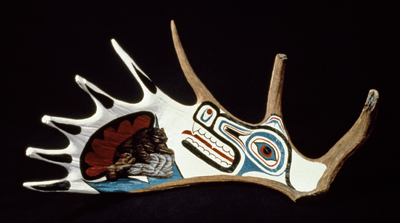 Artwork copyright Billy Van Court. Photo courtesy of the artist.
Proud Bear,
1994
Billy Van Court

(American | Norwegian | Cherokee, born 1948)
ABOUT THE ARTWORK
Proud Bear is a painted moose antler created by artist Billy Van Court. Moose shed their antlers in the winter, and a friend of the artist found the antler in the woods. After cleaning and painting it white, Van Court composed a design with two bear figures. He painted one bear in a realistic style. The other bear is inspried by Indigenous Coast Salish curved and ovoid designs.
Van Court notes, "Nature is such a beautiful and precious part of life, and hopefully the future of all wildlife can be preserved for generations to come. I feel that the Arts can play a large role in raising awareness in people to realize the great importance of protecting and preserving wildlife and the environment."
This artwork was acquired for the State Art Collection in partnership with Department of Corrections.
ABOUT THE ARTIST
Billy Van Court (Cherokee) is a self-taught artist and an inmate with the Washington State Department of Corrections. He states, "I grew up in poverty and unfortunately found myself on the wrong side of the law during much of my life. Since the age of 13 years old, I have spent over twenty years behind bars. I have always had an appreciation for the arts, but did not tap into my own talents until I was 28 years old and back in prison. Someone had given me a set of oil paints so I thought I would see what I could paint… Soon I was hooked on the creative spirit and have now been painting for the past 15 years. I'm serving a life sentence in prison, and I find my artwork to be very therapeutic for me."
ARTWORK DETAILS
| | |
| --- | --- |
| Medium | Acrylic paint on horn |
| Dimensions | 24 in x 18 in x 6 in |
| ID Number | WSAC1995.432.000 |
| Acquisition Method | Direct purchase |
| Artist Location | Washington, United States |
Location Information
Agency
Department of Children, Youth, and Families
Artwork Location
Green Hill School
On display in the School Library South Wall
WA County
Lewis
Placement
Interior
Site Type
State Agency
Address
375 SW 11th St
Chehalis, WA 98532
Geo. Coordinates
47.041975, -122.901474
Before Visiting
Some artworks may be located in areas not accessible to the general public (especially in K-12 public schools). Consider contacting the site prior to a visit to ensure access.
Map