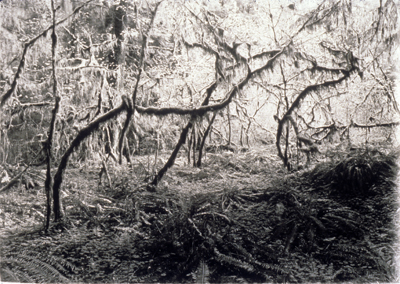 Artwork copyright Kenneth Slusher. Photo courtesy of the artist.
Olympic Rain Forest,
1986
Kenneth Slusher

(American, born 1947, died 2014)
Location:
Office of the Governor, Olympia
ABOUT THE ARTWORK
This photograph is part of Kenneth Slusher's series of black and white images that capture the texture and complexity of the moss-covered trees and fern-laden forest floors found in the Olympic Rain Forest.
This artwork was acquired for the State Art Collection in partnership with Puyallup School District.
ABOUT THE ARTIST
Late photographer and video artist Ken Slusher captured documentary images of cultural events and urban development in Seattle and Tacoma. His body of work also explored portrait and landscape photography. He taught photography at City Art Works and Factory of Visual Arts, and ran a Seattle-based gallery called "Open Mondays" from 1978-1984.
ARTWORK DETAILS
| | |
| --- | --- |
| Material Category | Work on paper - photograph |
| Medium | Selenium-toned gelatin silver print |
| Dimensions | 12 1/2 in x 17 3/4 in |
| ID Number | WSAC1992.038.000 |
| Acquisition Method | Direct purchase |
| Artist Location | Washington, United States |
Location Information
Agency
Office of the Governor
Artwork Location
Office of the Governor
Insurance Building (Policy office), Hallway
WA County
Thurston
Placement
Interior
Site Type
State Agency
Address
Legislative Building, Capitol Campus
Olympia, WA 98504
Geo. Coordinates
47.035777 | -122.904761
Before Visiting
Some artworks may be located in areas not accessible to the general public (especially in K-12 public schools). Consider contacting the site prior to a visit to ensure access.
Map



Menu