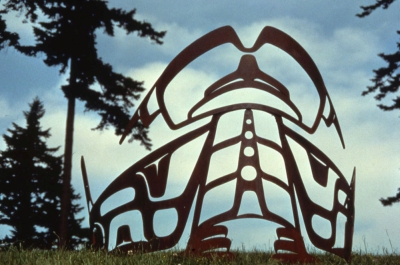 Artwork copyright Barry Herem. Photo courtesy of the artist.
Raven,
2006
Location:
Washington State Patrol - Crime Laboratory Division, Vancouver, Vancouver
ABOUT THE ARTWORK
Barry Herem's "Raven" depicts a key mythological figure represented in the oral history and song of native Pacific Northwest coastal cultures.
This artwork was acquired for the State Art Collection in partnership with Washington State Patrol.
ABOUT THE ARTIST
Northwest artist Barry Herem creates modernist artworks inspired by the natural forms and symbolism found in the Native American artistic traditions of the Pacific Northwest Coast.
ARTWORK DETAILS
| | |
| --- | --- |
| Material Category | Sculpture - other metals |
| Medium | Steel |
| Dimensions | 60 in x 60 in x 60 in |
| ID Number | WSAC2005.033.003 |
| Acquisition Method | Site responsive commission |
| Artist Location | Washington, United States |
Location Information
Agency
Washington State Patrol
Artwork Location
Washington State Patrol - Crime Laboratory Division, Vancouver
Exterior entrance
WA County
Clark
Placement
Exterior
Site Type
State Agency
Address
1401 Kauffman Ave.
Vancouver, WA 98660
Geo. Coordinates
45.632149 | -122.680837
Before Visiting
Some artworks may be located in areas not accessible to the general public (especially in K-12 public schools). Consider contacting the site prior to a visit to ensure access.
Map




Menu