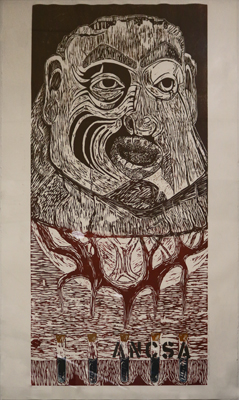 Artwork copyright Tanis S'eiltin. Photo courtesy of Washington State Arts Commission, 2016.
Resisting Distillation,
2002
Tanis S'eiltin

(American | Tlingit, born 1951)
ABOUT THE ARTWORK
Resisting Distillation is a woodcut print created by artist Tanis S'eiltin to express the resiliency of Indigenous Peoples to retain their cultural heritage. S'eiltin explains, "With the enactment of the Alaska Native Claims Settlement Act of 1971 (ANCSA), Native Alaskans were required to prove the possession of 1/4 aboriginal blood, a standard originally set by the Daws Act of 1887. Members of the Tlingit tribe now acknowledge one another as corporate shareholders as well as members of clans and moieties. The ramifications of this act serve as a catalyst for questions concerning the social and cultural structure of a people. This artwork represents the ability of indigenous people to retain our cultural heritage despite corporate and government standards of identification. This print contains a replica of a war helmet that was collected south of my great grandmother's place of birth, Yakutat. The purpose of this war regalia is to defiantly overpower the vials of blood and identification standards set by ANCSA."
This artwork is part of the Contemporary Native American Artwork Collection, on view at the University of Washington Gallagher Law Library. The collection was proposed by artist John Feodorov, who selected the eight represented artists for their rich and forward-thinking cultural expression. Speaking to the contemporary nature of this collection, Feodorov notes "since art, like law, is an ever evolving process, it cannot rely on nostalgia if it is to remain relevant."
This artwork was acquired for the State Art Collection in partnership with University of Washington.
ABOUT THE ARTIST
Tanis S'eiltin creates artworks that explore her identity as a Tlingit (Native Alaskan) woman living in the 21st century. Combining traditional and contemporary artistic techniques, S'eiltin notes that her work "questions the misrepresentation of Indigenous peoples in Western academia, media, and in the minds of mainstream Americans."
S'eiltin earned a Bachelor of Fine Arts degree from the University of Alaska Fairbanks in 1986 and a Master of Fine Arts degree in mixed media from the University of Arizona. She is a professor at Fairhaven College at Western Washington University and lives in Bellingham, Northwestern Washington.
ARTWORK DETAILS
| | |
| --- | --- |
| Material Category | Work on paper - print |
| Medium | Woodcut print on paper |
| Dimensions | 50 in x 30 in |
| ID Number | WSAC2003.005.000 |
| Acquisition Method | Direct purchase |
| Artist Location | Washington, United States |
Location Information
Agency
University of Washington
Artwork Location
University of Washington
Gallagher Law Library (4293 Memorial Way NE, Seattle)
WA County
King
Placement
Interior
Site Type
University
Address
15th Ave. NE, between NE Pacific St. and NE 45th St.
Seattle, WA 98195
Geo. Coordinates
47.659716, -122.310542
Before Visiting
Some artworks may be located in areas not accessible to the general public (especially in K-12 public schools). Consider contacting the site prior to a visit to ensure access.
Map