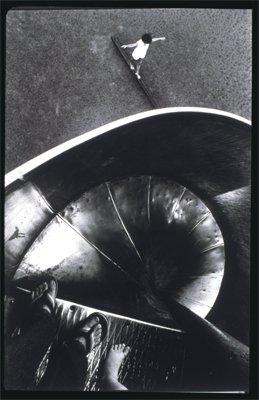 Artwork copyright Robert Haft. Photo courtesy of the artist.
The Widening Gyre,
1985
ABOUT THE ARTWORK
The Widening Gyre is part of artist Robert Haft's series titled "Excerpts from a Visual Diary." The series documents the daily lives of his family. This image captures the artist's wife as seen from the top of a spiral slide that had been used as a fire-escape at his old elementary school in Walla Walla.
This artwork was acquired for the State Art Collection in partnership with Tacoma School District.
ABOUT THE ARTIST
Northwest photographer Bob Haft creates documentary images that explore the limitations and possibilities of visual and verbal language. Much of his work focuses on the honest depiction of the inner lives and experiences of children.
Haft received a Bachelor of Science in psychology and a Master of Fine Arts in photography from Washington State University in Pullman, Eastern Washington. Based in Olympia, Washington, Haft teaches at The Evergreen State College.
ARTWORK DETAILS
| | |
| --- | --- |
| Medium | Gelatin silver print |
| Dimensions | 11 in x 14 in |
| ID Number | WSAC2002.249.000 |
| Acquisition Method | Direct purchase |
| Artist Location | Washington, United States |
Location Information
Agency
Tacoma Public Schools
Artwork Location
Lister Elementary School
Main office
WA County
Pierce
Placement
Interior
Site Type
Public School
Address
2106 E 44th St
Tacoma, WA 984044645
Geo. Coordinates
47.216048, -122.399842
Before Visiting
Some artworks may be located in areas not accessible to the general public (especially in K-12 public schools). Consider contacting the site prior to a visit to ensure access.
Map