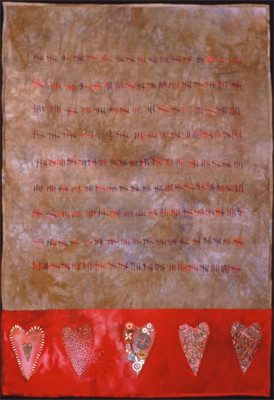 Artwork copyright Sally Sellers. Photo courtesy of the artist.
Love Is Hard,
2000
Location:
Truman Middle School, Tacoma
ABOUT THE ARTWORK
Love Is Hard is a hand-stitched quilt by textile artist Sally Sellers. It features glass beadwork and found objects. It is part of a series of hand-stitched and beaded quilts that feature tally marks. While the tallies can be interpreted in many ways, Sellers notes that for her, they counted the moments that comprise a long-term relationship. She states "they are most often ordinary days, days where the glitter and drama of new love has long since faded. Yet the very accumulation of these days and this amount of time spent together is the true story of any relationship."
This artwork was acquired for the State Art Collection in partnership with Tacoma School District.
ABOUT THE ARTIST
Northwest textile artist Sally Sellers creates art-quilts that explore and manipulate color and form.
ARTWORK DETAILS
| | |
| --- | --- |
| Medium | Mixed media fibers |
| Dimensions | 30 in x 20 1/2 in |
| ID Number | WSAC2000.229.000 |
| Acquisition Method | Direct purchase |
| Artist Location | Washington, United States |
Location Information
Agency
Tacoma Public Schools
Artwork Location
Truman Middle School
First floor outside counseling and nurse's office
WA County
Pierce
Placement
Interior
Site Type
Public School
Address
5801 North 35th St.
Tacoma, WA 98407
Geo. Coordinates
47.280346 | -122.513348
Before Visiting
Some artworks may be located in areas not accessible to the general public (especially in K-12 public schools). Consider contacting the site prior to a visit to ensure access.
Map



Menu