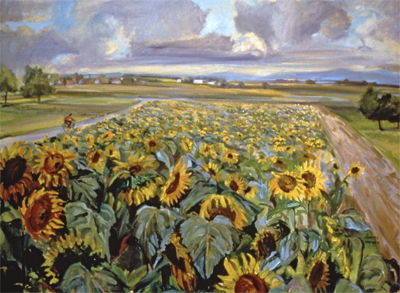 Artwork copyright Janette Hopper. Photo courtesy of the artist.
Sunflowers,
1996
ABOUT THE ARTWORK
Sunflowers is a landscape painting by artist Janette Hopper. Fields of sunflowers near Mannheim, Germany, where the artist spent many summers, inspired the imagery. Describing her composition, she notes, "The tiny biking figure on the left gives a sense of scale and life to the painting. People love to walk and ride their bikes out in the countryside in Germany. I wanted to capture the feeling of that particular experience of beauty."
This artwork was acquired for the State Art Collection in partnership with Soap Lake School District.
ABOUT THE ARTIST
Janette Hopper is a painter, printmaker, and performance artist. Her art is inspired by the places she has experienced while hiking, camping and kayaking. In her own words "I am especially interested in the unknown mysterious qualities of nature. Developing a feeling of light intrigues me... Clouds enchant my eye because of their infinite variety and because they cast interesting shadows."
Hopper grew up in Idaho with a lot of camping and fishing trips. In the late 1960s, she left university during the Vietnam War and joined the Peace Corps, spending two years in Colombia, South America. She earned a Bachelor of Fine Arts and a Master of Arts in Secondary Art Education from Boise State University in Idaho, and a Master of Fine Arts in Painting from the University of Oregon in 1984. She also taught art at Columbia Basin College in Pasco, Southeastern Washington, for fifteen years (1985-2000).
Hopper currently lives and makes art in North Carolina after many years in the Pacific Northwest. She continues to be involved with Print Arts Northwest (based in Portland, Oregon) and is collected by several Pacific Northwest museums, as well as others across the U.S. Her time in the Northwest was important to her career as artist and she notes that "Most of my art is still inspired by the Northwest mystical spirit and my education and experiences there."
ARTWORK DETAILS
| | |
| --- | --- |
| Material Category | Painting - paint on fabric |
| Medium | Oil paint on linen |
| Dimensions | 31 in x 40 in x 2 in |
| ID Number | WSAC2000.057.000 |
| Acquisition Method | Direct purchase |
| Artist Location | North Carolina, United States |
Location Information
Agency
Soap Lake School District
Artwork Location
Soap Lake Elementary
main office
WA County
Grant
Placement
Interior
Site Type
Public School
Address
410 Ginkgo St South
Soap Lake, WA 98851
Geo. Coordinates
47.384955 | -119.497944
Before Visiting
Some artworks may be located in areas not accessible to the general public (especially in K-12 public schools). Consider contacting the site prior to a visit to ensure access.
Map


Menu