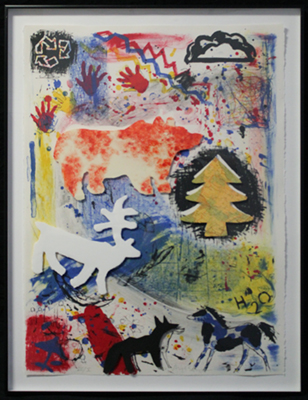 Artwork copyright Jaune Quick-to-See Smith. Photo courtesy of Washington State Arts Commission.
Ode to Chief Seattle,
1991
Jaune Quick-to-See Smith

(American | Confederated Salish and Kootenai Tribes of the Flathead Reservation, born 1940)
ABOUT THE ARTWORK
Jaune Quick-to-See Smith created the Ode to Chief Seattle series to honor the idea of human unity with nature. The title is an homage to Chief Sealth, the Suquamish and Duwamish chief for whom the city of Seattle is named. Chief Sealth was a vocal advocate for environmental responsibility and the rights of Native Americans. He stated, "The air is precious to the red man, for all things share the same breath—the beast, the tree, the man, they all share the same breath...We are part of the earth and it is part of us."
This artwork is part of a series of ten mixed-media artworks created by Jaune Quick-to-See Smith for the collection "Who We Are: Autobiographies in Art." The series was commissioned by the Washington State Arts Commission in partnership with the Office of the Superintendent of Public Instruction in 1990.
This artwork was acquired for the State Art Collection in partnership with Who We Are: Autobiographies in Art Collection.
ABOUT THE ARTIST
Celebrated Native American artist Jaune Quick-to-see Smith (Salish-Kootenai) uses her art to comment on American Indian identity, histories of oppression, and environmental issues.
Jaune Quick-To-See Smith grew up on the Flathead Nation in Montana in a home where art and horses were equally important. She traveled around the Pacific Northwest and California with her father, who was a horse trader. She graduated from Puyallup High School in Western Washington and earned an Associate of Arts degree at Olympic College in Bremerton, Washington in 1960. She studied at the University of Washington before earning a Bachelor of Arts degree in Art Education from Framingham State College in Massachusetts in 1976. She had to take many breaks from college to earn money. In 1980, she earned a Master of Arts degree in Art from the University of New Mexico. Quick-to-See Smith's artworks are represented in many museum collections, including the Smithsonian American Art Museum in Washington D.C. and the Museum of Modern Art (MOMA) in New York City.
ARTWORK DETAILS
| | |
| --- | --- |
| Material Category | Work on paper - print |
| Medium | Lithograph print and collage on paper |
| Dimensions | 30 in x 22 1/4 in |
| ID Number | WSAC1991.048.000 |
| Acquisition Method | Site responsive commission |
| Artist Location | New Mexico, United States |
Location Information
Agency
Federal Way Public Schools
Artwork Location
Federal Way High School
1st Floor, main hallway between Main Office doors
WA County
King
Placement
Interior
Site Type
Public School
Address
30611 16th Ave South
Federal Way, WA 98003
Geo. Coordinates
47.327752, -122.313603
Before Visiting
Some artworks may be located in areas not accessible to the general public (especially in K-12 public schools). Consider contacting the site prior to a visit to ensure access.
Map
Lesson Plans and Documents