Search the Collection: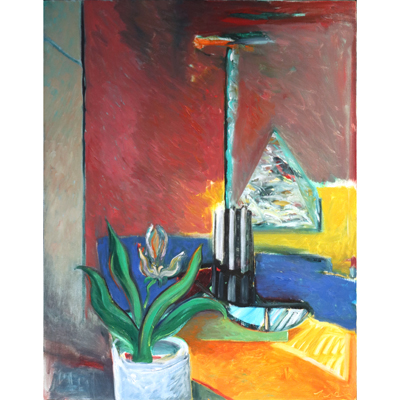 Artwork copyright . William Turner. Photo courtesy of the artist.
In Remembrance 2021
Remembering the artists in Washington's State Art Collection who passed away in 2021. Several of these artists are Northwest giants who were artists, teachers, and mentors.
In their own words...
Oregon printmaker Dennis Cunningham: "I endeavor to embrace regional concerns, while intending to produce interest and associations that may resonate beyond the local."
Seattle-based, environmental artist Lorna Jordan: "My works are more than objects – they are ideas, places, and actions."
Vashon painter Jack Chevalier: "I am trying to make a picture of a whole experience, both what one sees out there and what one brings to the experience."
Northwest painter William Turner: "My paintings are intended to be simultaneously stimulating and contemplative."
Spokane painter dick ibach: "The direction of my imagery is often autobiographical. It is my intention to speak of the dichotomy of the human condition: to address both the nobility and stupidity of it all."
Northwest sculptor Phillip Levine: "All my life I had heard 'The figure is dead.' But I was always drawn to it."
Anacortes artist Philip McCracken: "[sculpture] is where i found the best means of expressing what I thought was the best in me."
Sculptor and teacher Michihiro Kosuge: "I never thought that I was a patient person... Stone helped make me be patient."
To learn and see more about the artists and their artworks, click on the artist names or images below.
Read Less
Read More →