Search the Collection: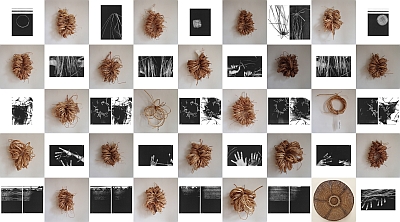 Artwork copyright Sara Siestreem. Photo courtesy of the artist.
Kamiak Elementary Curated Collection in Pullman, curated by RYAN! Feddersen
"Thematically, I am drawing inspiration from the story of Kamiak Elementary's namesake, Chief Kamiakin. He organized a coalition of tribes across the Columbia Plateau to defend against invading settlers, prospectors, and military. I want to reflect on this legacy of uniting different communities to protect our relations and the land. While Kamiakin is historically credited with banding together rival tribes and leading important battles, there are multiple, subtle references to the part his five wives played. Kamiakin's powerful position and sway with intertribal communities was directly correlated to the influence of his wives. Colestah, the only wife who is sometimes named in prevalent histories, was a renowned medicine woman and warrior, who literally fought by his side and drug his wounded body from the battlefield and healed him. I want to symbolically honor the essential and often under-recognized part of history that matriarchs play through highlighting compelling Indigenous artists whose work connects with activism, collaboration, resistance, and community building."
–RYAN! Feddersen, curator for Kamiak Elementary, Pullman School District, in Eastern Washington (April 2021).
Read Less
Read More →