Search the Collection: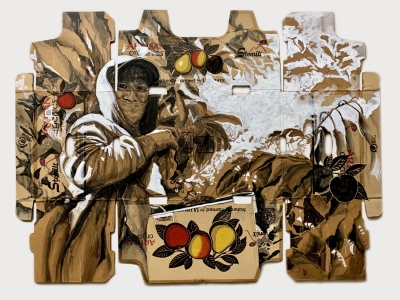 Artwork copyright Narsiso Martinez. Photo courtesy of the artist.
Ridgeview Elementary Curated Collection in Yakima, curated by Cozette Phillips
"The Washington State Arts Commission's Art in Public Places program enhances the spaces which serve the public with extraordinary artworks. The aspiration to capture and express the spirit of this program has informed the curation and addition of five artists and sixteen artworks to the collection at Ridgeview Elementary. Artists James Allen, Megan Martens-Haworth, Narsiso Martinez, Nicole Pietrantoni, and Christie Tirado each bring their unique voices as they join Washington's State Art Collection.
The artworks that have been added to the collection span the mediums of book arts, painting, printmaking, and sculpture. There is a diversity of approaches and interpretations yet each artist shares in their ability to enlighten, alter perceptions, and open the viewer to new experiences. Artworks and artists were selected that reflect the people and cultures of the region, its landscapes, its agricultural traditions, and its dreams of the future; all that is essential and all those who are essential.
One will experience both a visual and physical journey while viewing the collection on display at Ridgeview Elementary. The dynamic architecture of the school is understood through its lofty ceilings, the abundant natural light that spills through its skylights, and its spacious corridors that offer expansive sightlines. Its impact inspires a dialogue between the artworks and their surrounding educational spaces. The intentional presentation encourages moments of reflection while paired with the curatorial goal of cultivating knowledge and a greater appreciation of the arts."
–Cozette Phillips, curator for Ridgeview Elementary, Yakima School District, in Yakima, Central Washington (April 2021).
The local Art Selection Committee for Ridgeview Elementary wanted art that reflects their farming communities, their relationship with nature, and the largely Hispanic student body. They also wanted art that is soothing and peaceful for a community that works hard.
Read Less
Read More →