Search the Collection: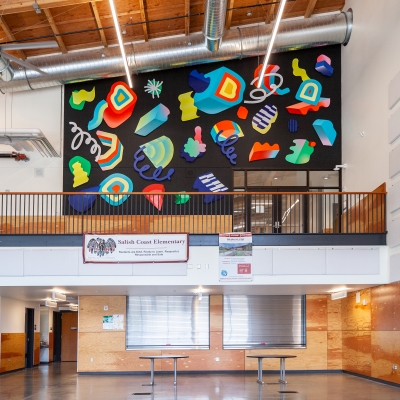 Artwork copyright Andy Arkley. Photo courtesy of the artist, by Wiseknave, 2020.
Salish Coast Elementary Curated Collection in Port Townsend, curated by Lele Barnett
"Curating for Salish Coast Elementary School, I collaborated with ArtsWA and the school's Art Selection Committee, which included student representatives, the principal, teachers, parents, and volunteers. From them I learned this is not only a special space for students, it is a public library, YMCA, and an active town gathering place. The city of Port Townsend has always been considered an art community, and the school values place-based learning. Getting the students and community excited about artists in and from their region was important. They also requested fun and dramatic art that is colorful.
For the common area, we found just that. Andy Arkley, an artist from Bellingham and Seattle, had been exhibiting Chromamotion at the Bellevue Arts Museum. This large-scale installation piece evokes excitement and vibrancy, and we are fortunate to place it permanently at Salish Coast Elementary School.
Stallman Studio is an artist duo, Jason Hallman and Stephen Stum, based nearby on Whidbey Island. The two selected works pioneer an innovative technique using paint and canvas as sculpture. They believe color is therapy, and in these works fields of color emerge as your perspective to the piece changes.
Counsel Langley attended Salish Coast Elementary School, back when it was called Grant Street School. Growing up in Port Townsend inspires her work, and these four paintings radiate positivity.
Maria Coryell-Martin is a local artist who lives on the same street as the school! Her powerful imagery is based on field art and science, and her painting of Arctic Terns inspires learning about our global environment."
–Lele Barnett, curator for Salish Coast Elementary in Port Townsend, Port Townsend School District, on the Olympic Peninsula, Northwestern Washington (July 2020).
The local Art Selection Committee for Salish Coast Elementary wanted the students and community to be excited about artists in and from their region. They also asked for fun and dramatic art that is colorful enough to brighten grey-sky days.
Read Less
Read More →