Search the Collection: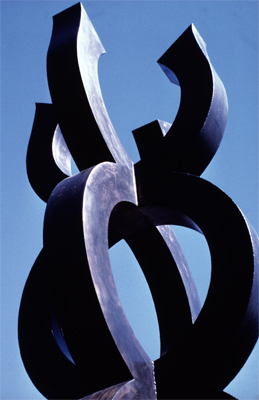 Artwork copyright George Tsutakawa. Photo courtesy of the artist.
Tsutakawa Family
The Tsutakawa family of Seattle is an artistic dynasty in the Northwest. We present our own collection of artworks by George Tsutakawa and Gerard Tsutakawa.
First there was George Tsutakawa, an influential painter and sculptor in the mid-century Northwest School. His artworks often combined metal materials with water and the sky, and explored the relationship between natural elements and forms. He was also a teacher at the University of Washington in Seattle.
Gerard Tsutakawa is his son and he apprenticed for his father. He focuses on sculptures for public spaces and considers his artworks to be a "confluence of cultures and traditions of the Pacific Rim." He's also well-known in the Northwest—his most well-known artwork might be his bronze baseball mitt at the Seattle Mariners' Safeco Field.
Washington's State Art Collection features artworks by both George Tsutakawa and Gerard Tsutakawa.
Read Less
Read More →