Search the Collection: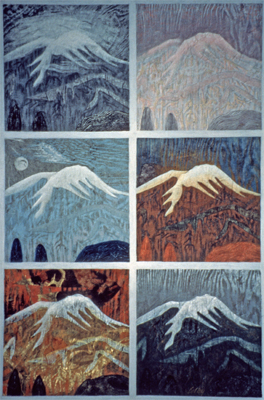 Artwork copyright Bill Colby. Photo courtesy of the artist.
Bill Colby 1927-2019: In Remembrance
Late artist Bill Colby captured the expressive moods and nuance of the natural world. He passed away April 19, 2019 at the age of 92. Many of his prints feature variations of repeated imagery, capturing the sense of changing light and season. He often used the woodgrain of his printing blocks to create texture and movement in his compositions. His works reflect his world travels, and his unique vision of the Puget Sound landscape.
Colby was born in Kansas and served in Germany in World War II. He received a Bachelor's degree from the University of Denver. He received a Master's degree from the University of Illinois. He taught at public schools in Portland between 1950 and 1955, before taking a position as a Professor of Art at the University of Puget Sound in 1956. He taught Printmaking and Art History there for over thirty years. He and Trudi, his wife of 63 years, together raised four daughters.
After retiring from teaching in 1989, Colby continued making art from his home studio in Tacoma. The State Art Collection features over twenty of his prints and paintings. It is an honor to share this selection from his many series and bodies of work.
Read Less
Read More →