Search the Collection: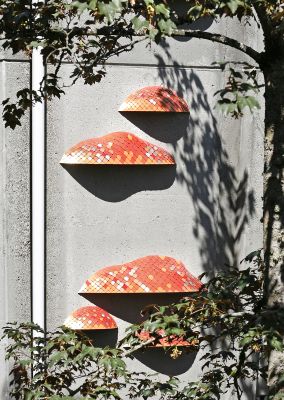 Artwork copyright Cris Bruch. Photo courtesy of the artist.
Public Artist Roster: Recent Artworks
This web exhibition includes a sampling of artworks made within the last four years by artists chosen from our Public Artist Roster. Most of these artists also have an active studio practice. Many of these commissions were the artist's first with our Art in Public Places program. You can find these artworks across Washington State, from Spokane to Bremerton, Snohomish to Vancouver.
Our Public Artist Roster Call for Applications was open from May 15 to June 26, 2018. The Roster is a list of artists eligible to create site-responsive artworks with our program. We open the call every three years.
Please visit arts.wa.gov to learn more.
–May 2018.
(Click on the red site names to see artworks at that location.)
Read Less
Read More →
Cascadia Technical Academy, Vancouver, WA
Clover Creek Elementary, Tacoma, WA
Columbia Basin College, Pasco, WA
Garfield Elementary, Olympia, WA
Grand Coulee Dam School District, Coulee Dam, WA
Jackson Park Elementary, Bremerton, WA
Marcus Whitman Elementary, Richland, WA
North Seattle College, Seattle, WA
Pullman High School, Pullman, WA
Renton Technical College, Renton, WA
Shining Mountain Elementary School, Spanaway, WA
Spokane Falls Community College, Spokane, WA
Valley View Middle School, Snohomish, WA
Westview Elementary School, Spokane, WA
White Pass Junior-Senior High School, Randle, WA