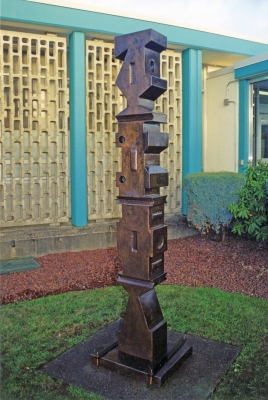 Artwork copyright Rod Kagan. Original installation. Photo courtesy of the artist.
Totem #6,
1982
Rod Kagan

(American, born 1940, died 2010)
ABOUT THE ARTWORK
Totem #6 is part of late artist Rod Kagan's series of tall geometric sculptures. He hand-built the sculpture in his studio, North Fork Ironworks, located in Ketchum, Idaho. He first welded the bronze together then ground the welded seams smooth. He then applied a patina to color the surface of the sculpture.
This artwork was acquired for the State Art Collection in partnership with Department of Corrections.
ABOUT THE ARTIST
Idaho-based artist Rod Kagan (1940-2010) created abstract geometric sculptures. He designed many of his sculptures as monumental columns and totems. Born in New Jersey, he moved to Idaho in 1975, where he established his studio, North Fork Ironworks in Ketchum.
He received a National Endowment for the Arts fellowship grant in 1984. He was honored with the Idaho Governor's Award for Excellence in the Arts in 1990.
ARTWORK DETAILS
| | |
| --- | --- |
| Medium | Bronze |
| Dimensions | 8 ft x 1 ft x 9 in |
| ID Number | WSAC1983.140.002 |
| Acquisition Method | Direct purchase |
| Artist Location | Idaho, United States |
Location Information
Agency
Department of Corrections
Artwork Location
Washington Corrections Center
Outside of B-building breezeway
WA County
Mason
Placement
Exterior
Site Type
State Agency
Address
2321 W Dayton Airport Rd.
Shelton, WA 98584
Geo. Coordinates
47.242881, -123.191234
Before Visiting
Some artworks may be located in areas not accessible to the general public (especially in K-12 public schools). Consider contacting the site prior to a visit to ensure access.
Map